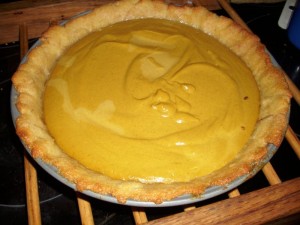 I hope everyone had a wonderful Thanksgiving and ate gobs of beautiful, yummy gluten-free foods and enjoyed savoring time with wonderful people! And, as my sister just reminded me, this week is Hanukkah, so warm fuzzies to all those celebrating as well.
We went up to Bainbridge, NY to visit my husband's great-grandma and family.  It was a long trip, but lovely to see everyone again.  My main gripe is that I made myself brownies, and then promptly left them home.  Bummer.  Next time, brownies have special priority seating in the car.
This week's ingredient is sweet potatoes, which are one of my favorite foods.  My tummy isn't as big of a fan, so I don't eat them very often.  I adore sweet potato fries and sweet potato pie (seen above).  And the Karina just posted a recipe for mulligatawny soup, featuring sweet potato, and I'm hoping to make that this week AND perfect my sweet potato pie…last time it was just too runny, and I will delight in fixing that.
Also, calling all hosts!  Yes, you.  Pick a week, pick a food, and we're ready to roll.
Monday:
Rosemary salmon with roasted garlic cauliflower
Tues:
Nightshade stew with gobs of sauteed fennel
Weds:
Oven broiled Tandoori spiced chicken, just with coconut milk
Thursday:
Lentil Dal
Friday:
Leftovers!
Fun stuff:
Chocolate cakes (3 minis) with the my favorite chocolate ganache frosting ever
Sweet potato pie
Ginger snaps from Free for all. I will hopefully be posting a review super soon!
and as I look at this, I can't help wondering if I'm being a wee bit over ambitious. We shall see.
And everyone else?
Heather of Celiac Family had a great Thanksgiving–do check her last post for adorable table decorations. This week, she's got a bunch of her favorite sweet potato recipes together, and what caught my eye most was her Indian Chicken Quinoa, which looks fantastic.
Michelle of Gluten Free Smiles has VERY good news to share! She was just engaged. Unfortunately, she also had a bad car accident. So please send some warm fuzzies her way for a speedy recovery. Her menu is rather ambitious, considering, and it features sweet potato fries.
Scrumptious is looking forward to calmer days and has a SP heavy meal plan. She is so lucky and is heading to Spirit rock later in the month on a week long retreat! Sounds incredible. And her acorn squash soup sounds divine.
Nicola of G-free Mom has a great meal plan featuring green chicken curry. And it's worth a look just for the Tennessee Valley beach picture which is so peaceful.
Kristen of Adventures in Mommyhood is juggling the gluten, dairy and soy free experience and is committing to menu planning to make life easier, and she has spousal support, which is always huge. Her menu includes La Bomba Cassarole which sounds like fun.
and a couple of late breaking menus:
Wendy of Celiacs in the House has beautiful pictures and a great menu (as usual!). She has sweet potato muffin tops, which look fantastic and I got totally side tracked by the picture of her pumpkin pie. Can you say to die for? (ok, I love pumpkin pie, I'm allergic, so this is as close as I get!
Did you know that sweet potatoes don't grow well across the pond? I didn't. Esther of Lilac Kitchen joins us with a menu plan including selections from Gluten free Girl and the Chef, which is a fantastic cookbook. She'll post her review soon.
Renee of Beyond Rice Cakes and Tofu has just gotten back in from a cross country trip and recently been reviewing a few cookbooks, so expect new yumminess from her direction. She also has doggie picture, and if you like adorable Labs, check them out!