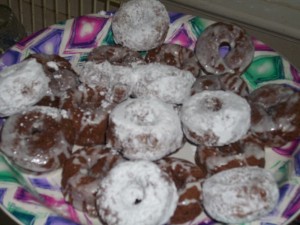 Ah, doughnuts.  I've never made them, or ever thought of it.  And yet, that's what Daring Baker Challenges are about–stretching my horizons.
The October 2010 Daring Bakers challenge was hosted by Lori of Butter Me Up. Lori chose to challenge DBers to make doughnuts. She used several sources for her recipes including Alton Brown, Nancy Silverton, Kate Neumann and Epicurious.
I wasn't terribly enchanted when I read the selection.  Deep frying?   Yuck.  (sorry!)  Now, since I'm gluten free, I couldn't use the recipe given, and I started looking at recipes and realizing I could make BAKED doughnuts.  Then I got jazzed, and even bought a mini doughnut pan for the occasion. 
I used this recipe, substituted Better Batter GF flour and coconut yogurt instead of the buttermilk and yogurt.  I did a simple sugar/'cream' glaze as well as just dipping in powdered sugar.
No joke, they went in record time.  And everyone enjoyed them so much I'm thinking of making them again this weekend.  I'm glad I went out on a limb and did this!
Please check out the other DB'ers for more and beautiful doughnuts!