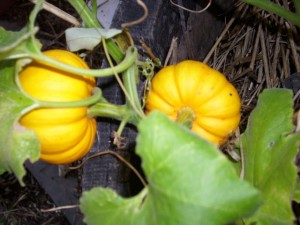 Wow!  I hope everyone had weather as beautiful as we did.  I'm somewhat limited in enjoying it because I sprained my ankle, but I did spend time in a nearby park with DH and we saw 4 wild turkeys, which was pretty neat.  And check out my basil!
And so…this week is the run up to our 9th annual pumpkin carving party, so there's a lot of baking going on 'round these parts.  I tend to pre-make my own mixes so the days before are easier.  At the point, the menu will include:
As usual, I'm trying for a mix of some healthy-ish options and also fun ones that appeal to little people.  And my thought is that I'm going to be eating really simply this week because my attention will be on my baking projects.  So that means a lot of hummus and Yummy Red Lentil Dal.  No arguments here!
Michelle of Gluten-free: A Reason to Smile has chosen pumpkins as our theme.  I'm allergic, actually, but I grow the little guys.  3 years ago I grew the big ones and had 40 feet (approx) of moldy vines…thanks, but no thanks.  I'll stick with the babies.
If anyone is interested in hosting future weeks, please contact me!  For info on hosting, please see the Swap HQTRS
Wishing you all a great week and a fun Halloween!