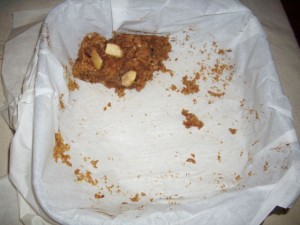 I brought this cake to work, went to see one client…and when I returned AN HOUR LATER, this little piece was all there was left.  I think the results speak for themselves, especially since there were trays of glutenous, sugary baked stuff, too!
I love apples.  As I grew up in NY, this kinda goes without saying.  I was a hard core Macintosh fiend in my younger years, but they're just not good here in VA.  And so I've moved onto local apples and broadened my appreciation.  So if you're in the VA/DC/MD/PA area, go get some Goldrush, Liberty or Honeycrisp.  Seriously.  Spectacular.
This was a last minute inspiration, largely because Ricki mentioned the SOS challenge, which features vegan yums, no refined sugar, and natural, whole foods.  Which pretty much describes almost all of my baked goods.  And given it's Sept, the challenge is apple themed.
I thoroughly enjoyed this breakfast cake, which features apples, and is quite simple to make.  I love quinoa in food-food, but have mixed feelings about it in baked goods.  Often something tastes…well, not quite right.  But for whatever reason, I found the quinoa taste quite welcoming and compelling in this, and the flavor much less pronounced when it cooled.  If you're not a…uh…quinoa-phile? quinoavore? just add more spices, but I really enjoyed this baby as is.
3 T coconut flour
½ cup almond flour
1/2 tsp baking soda
½ tsp baking powder
1 cup quinoa flakes (or GF oats, if you eat them)
1/2 tsp cinnamon
pinch nutmeg
1/4 tsp stevia
1/2 tsp salt
3 T mac butter
3 Tbsp coconut oil
2/3 cup coconut (or palm) sugar
1 tsp vanilla extract
1/2 cup blended pear
2 Tablespoons maple syrup
½ tsp chia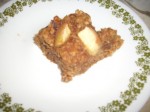 1/2 cup chopped nuts (or seeds, like sunflower)
1/2-3/4 cup chopped apple with skin
1-2 Tablespoons coconut sugar
Preheat the oven to 350.  Mix wet and dry separately, then combine.  Stir in the nuts.  Pour into an 8X8 pan, lined with parchment if you're lazy like me.  Push apple chunks into the top, and sprinkle with 1-2 Tablespoons coconut sugar.
Bake until starting to brown and a toothpick comes out clean, about 20 min.