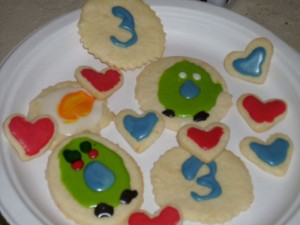 The September 2010 Daring Bakers' challenge was hosted by Mandy of "What the Fruitcake?!" Mandy challenged everyone to make Decorated Sugar Cookies based on recipes from Peggy Porschen and The Joy of Baking.
But to me, the best part of it was decorating to the theme of September. September means Fall, the change of seasons, harvest, back to school…but it also is the anniversary of when I started my nutrition private practice, Harris Whole Health.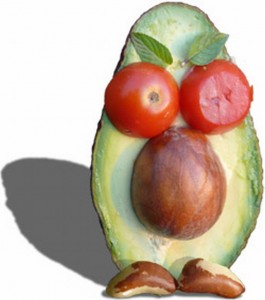 As I've mentioned before, I was pretty much born to be a nutritionist. I was always fascinated by food, and enamored with tastes. I wanted to be a Public Health Nutritionist and help everyone enjoy great foods and eat well. And, indeed, I did. I worked for DC WIC running the breastfeeding promotion programs. And then I got sick. Lyme's, mold poisoning, chronic fatigue, a surgery gone wrong, food allergies, Celiac, and more. What I was doing didn't seem as relevant, and I felt so poorly that I wasn't really up to working full-time anymore.
An acupuncturist I was working with encouraged me to dream, to think of what I truly, deeply, wanted to do. Now this sounded completely insane. Start a business while feeling so sick? It seemed impossible And yet here I am, thanks to many people who have supported me along the way. I've gotten to take what I've learned in my travels, and use it to make other people's journeys easier (cool stuff!) It's been a process that's taken years in healing physically and growing into this new direction of being, but I delight in the challenges and triumphs of working with my clients. While many of my clients have Celiac or food sensitivities, I see such a range, and it keeps to process fun.
So the theme of these cookies is the 3 year anniversary of my practice. And making the cookies was a bit of a challenge. Since mine are GF, I used the Better Batter recipe, which was just too soft to make the cookies cut well (although they were tasty.) I used the royal icing as given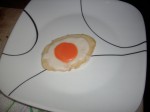 in the recipe, which was a fun and messy process. Since I was new to it, I can't say it went quite as planned, especially with the drawing with the icing.  I was hoping to make a sunshine cookie, and yet this one is a dead ringer for a fried egg…
Please do check out the creations of all the other Daring Bakers…they're always amazing eye candy.