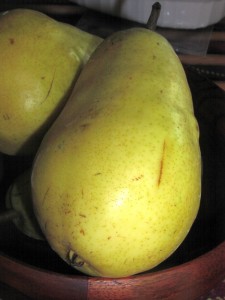 I hope everyone is enjoying the summer to fall transition.  I love it–warm but not hot (usually), the beginning of color on the trees and movement in the air.  Good stuff, all around.
We've been busy around these parts.  I'm taking 3 exams, going to a weeklong conference, teaching two more classes, preparing for a big project in Nov and hosting a party for 20-30 people…before the end of October.  And working.  So most of my free time is, shall we say, not so free.  Although, all of these things delight me and I feel lucky to have so many wonderful things in my life.  I'm also exhausted. So it is indeed a mixed bag.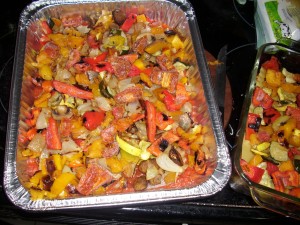 Often as I'm busy, I use cooking and baking as an outlet.  So this week, I made two roasted veggie lasagnas, two recipes from GFG's new cookbook (review here), the daring baker challenge, a chocolate hazelnut torte and an apple/pear breakfast cake that I hope to post…soon.  And, ya know, we ate meals, too.
This week's ingredient is the humble pear.  I think eating them straight is fantastic, but I love pear crisp, pear skillet cake, and don't forget Ricki's ice cream (featuring pears!) Pears are in the store all year round, but are only truly terrific about now, IMHO.  I also love them frozen, then pureed with maple syrup.  Mmmm…
And calling all hosts/hostesses!!! Email me.
Monday:
Malaysian Sunflower Curry (recipe from the spice and herb bible)
Tues:
Roasted Salmon with Roasted Herb-y Red Peppers
Weds:
Beef in coconut sauce with roasted cumin- cauliflower
Thursday:
Lemony mint quinoa
Friday:
Leftovers. or something that requires absolutely no effort
Baked goods:
cupcakes, maybe? We'll see.
In my garden:
a few tomatoes
a few peppers
a baby watermelon
herbs: parsley, basil, lemongrass, etc.
baby pumpkins
Heather of Celiac Family loves pears, too (pear lovers unite!)  She's thinking of making baked pears with gingerbread, and has a marinated flank steak that always tempts me.  She also did a mini round up of last week's menu plans because our intended hostess was under the weather.
Michelle has a bunch of pears, so this works perfectly for her.  She plans to make a gingered pear cake in her saladmaster (color me intrigued).  She'll be posting that soon.   She's got split pea soups as the soup of the week, and a cast iron skillet pizza.  Yum!
Renee of Beyond Rice and Tofu isn't a pear fan, but she's gotten a bunch of new cookbooks to explore, and will be sharing with us soon, I'm sure.  She's got a Tex Mex Lasagne recipe on the menu that looks quite interesting.
Wendy of Celiacs in the House had a poached pear recipe post a few days back, so she's covered on the pear front.  And she's got an amazing deal going with her son–she teaches him to cook, he teaches her photoshop.  I think that's awesome.  And they'll be checking out the Gluten Free Girl's book this week.