It's pie crust season for sure, so I wanted to get this posted ASAP! This is my new favorite-most thing. Most pie crusts use eggs or palm shortening, which I can't have. My old one used agave, which I've been using much less. And, for some very strange reason, Mr. Dude hates the taste of almonds. Almonds! For years he had been complaining about something having a "weird, gluten-free taste" and by process of elimination, I discovered it was the almond flour. I get having an aversion to the taste of, say, amaranth or quinoa. But almonds? I don't understand how this happens. He is a good person, I swear, but I guess we've all got to have some flaws, right?
So…while this is an almond crust, it tastes coconut-y. In many pies, this is a bonus. So it's perfect with my Chocolate Banana Mousse (updated recipe coming soon!) and I can't wait to make it with my Sweet Potato Pie. It holds together and cuts fantastically, and it's obviously gluten-free, grain free, vegan and Paleo friendly.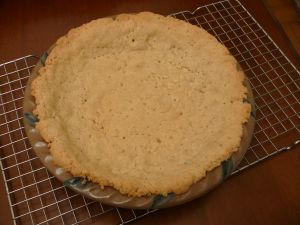 2 cups almond flour
2 Tablespoons coconut flour
1/3 cup of coconut oil–still solid, smushed into the measuring cup
pinch of salt
pinch of vanilla powder
1/4 cup maple syrup.
In a food processor, pulse all but maple until well combined and no chunks of coconut oil remain. Pour in the maple syrup and it should come together in a ball. Pat into 9 inch pie crust. Bake at 325 for 18-20 min until golden.
…and that's it! It holds together beautifully, and I'm loving it.
I'm linking up to Gluten-Free Wednesdays.
GFW is co-hosted by Shirley of gluten free easily, Linda of Gluten-free Homemaker,  and Lynn of Lynn's Kitchen Adventures.