So…I had the great fun of going to the annual GFE retreat, as hosted by the most delicious Shirley Braden of Gluten Free Easily. Oh, the food! But the company was even more wonderful. Debi of Hunter's Lyoness, Valerie of City|Life|Eats, Linda of Gluten-Free Homemaker and Heather of Gluten-Free Cat, with a guest appearance by Katie Oliver, author and laughing yoga with Jennifer Smith.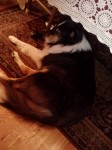 And, of course, there was Sonny, doggie extraordinaire.
It was fun, it was restorative and restful, and of course, it was delicious. It's amazing, really. Some of us are avoiding grains, other are vegan, and there were a bunch of quirky intolerances to look out for, including mine. Of course, we are all gluten-free. And yet we were able to generally come up with delicious meals we all could share and enjoy together. Granted, we're all old pros at the GF deal, but it was somewhat surprising how easy it is when everyone has the same intention.
I didn't take many pictures of everything because I only had my phone, and the other bloggers are seriously gifted photograpers. But I did take a few snaps: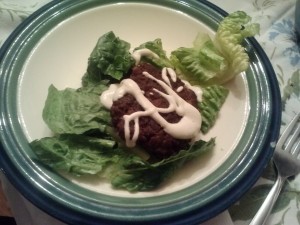 Venison burgers that Linda whipped up, along with Valerie's (now) famous cashew sauce
Ms. Shirley made her marvelous Brazillian Un-Cheese Rolls with a twist. We used garlic hummus instead of red pepper for my sake, and tapioca flour instead of coconut flour for Debi. If you're vegan and grain-free, they are a must-make. Okay, even if you're NOT vegan and grain-free, put them on your list.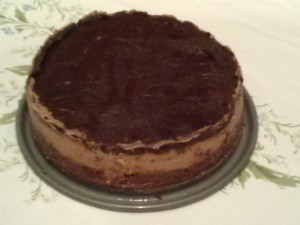 An almond butter version of this PB Cup Cheesecake recipe. It didn't taste like cheesecake to me, but it was absolutely delicious! Doubly delicious for breakfast. 😉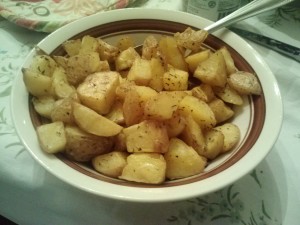 I brought along some potatoes from my garden, which we roasted with olive oil and a delicious herb seasoning. It had big chunks of herbs, which makes a big difference for me in terms of flavor.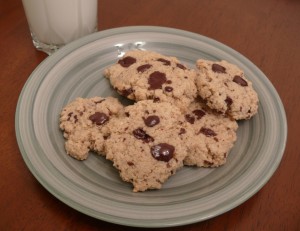 And last but not least, I made my Divine Chocolate Chip Cookies– or rather, I made them at home and brought along a cookie dough roll. They travel well, and they were delish! Somehow, I didn't even think of taking pictures in the moment, and then, poof! They were all gone, so this is a picture from my kitchen.
Linda made Roasted G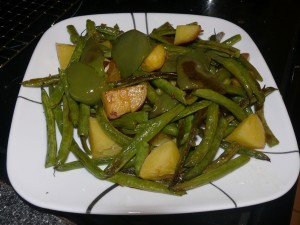 reen Beans and Peppers from Kalyn's Kitchen. I absolutely LOVE ginger and it was SO good that I couldn't stop thinking about it, so I had to make a variant on it this week so that I could get my fix.
So, I'm very thankful for a much needed vacation, full of yummy people, good food and abundant laughter.