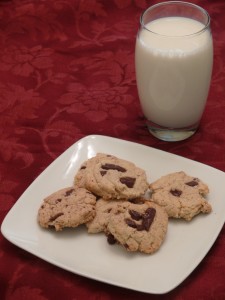 I confess, I'm totally in love with these cookies.
In grad school, one of my dear friends started calling me Cookie Monster, because I took my cookies very, very seriously. I still do, and it's been way too long since I've had chocolate chip cookies that meet my approval. Chocolate chip cookies are matter of great importance, as you well know. We all have a difference sense of exactly what they should look and feel like. My friend Carrie has perfect Chocolate chip cookies that my sweetie loves, but I can't have the eggs or sugar or grains, so I've spent years adventuring. Some recipes I've tried are too greasy, or too flat, too coconut, too crumbly or just not right. I hadn't had any that met my standards for almost 1o years, and clearly that's unacceptable, and called for serious experimentation.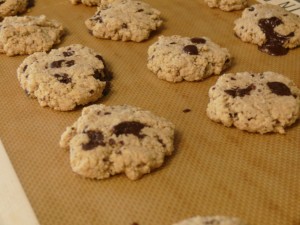 And so I finally found my cookie, and it was totally worth waiting for. So good. Firm, almost crispy on the outside and soft and tender in the middle. I know this sounds like crazy talk and takes a good deal of restraint, but they also freeze really well, and so they're my cookie of choice for travel.
Instead of coconut oil or butter, these babies feature macadamia nut butter. I've got the directions here for a flavored version, but it really boils down to putting macadamia nuts in a food processor, turning it on, and scraping down as needed. Easy, peasy! For this recipe, you just want to get pure macadamia butter—no maple syrup, no salt, just the roasted macadamia nuts,  a food processor and, of course, lots of love.
Preheat oven to 350. Line a baking sheet with a slipat mat or parchment paper. Mix all of the ingredients thoroughly except the chocolate until well combined–this can also be done in the food processor– and then stir in the chocolate chips or chunks. Portion out cookies by the heaping tablespoon, roll into balls and flatten down on the cookie sheet. They can get cozy, since the cookies won't spread much.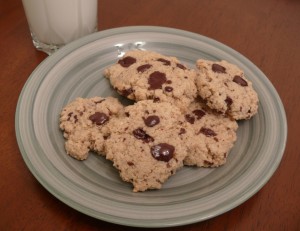 Bake for 14-16 minutes or until the sides are just starting to turn a golden brown. The tops will not brown. Allow to cool for 5-10 minutes before moving them.
Makes about 18, depending on how much cookie dough ends up in your mouth pre-baking.
*Almond flour: This recipe works perfectly with blanched almond flour from nuts.com, which is what I use. I tried a few different cookie recipes that I found on other sites that specified Bob's Red Mill's flour and they came out totally crumbly for me, which may be an ingredient issue—I only use almond flour that's certified gluten-free, which is either Nuts.com or Honeyville. BRM sells blanched almond meal which is marked GF but is not certified; it looks like it's a little coarser. I don't know if BRM flour works in this recipe. Please let me know in the comments if you experiment.
**I used 73% chocolate in the 1st picture, and 85% in the 2nd. The lower cacao chunks are firmer and prettier. Both are crazy delicious.
I'm submitting these lovelies to Gluten Free Wednesdays. Hop on over to see a bunch of wonderful recipes!