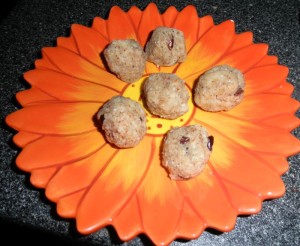 How time flies! I just realized it's the end of September and I forgot to post my new article on Growing Up Gluten-Free for Today's Dietitian.
Now, moving into tastier territory, I have the delight to review Ricki Heller's cookbook, Naturally Sweet and Gluten-Free. You may be familiar with Ricki from her blog, RickiHeller.com (formerly Diet Dessert and Dogs) and her older cookbook, Sweet Freedom. All of her recipes are vegan and refined sugar-free, low glycemic and use a variety of g-free whole grains. Additional plus: so many vegan books are soy-heavy, which doesn't work for me, but Ricki's book is NOT. Sweet freedom has a few recipes with gluten that are easily adapted, but her new book is totally gluten-free.
I adore Ricki's recipes, style and of course, doggies. But what sets Ricki apart is her endless creativity. Who else uses millet in pastry cream? Or uses sweet potato in chocolate buttercream? And her baked goods are also so elegantly and artistically done and utterly delicious.
Generally, when I review cookbooks, I make two things, because hey, why not? It's a good excuse to get playing. So I made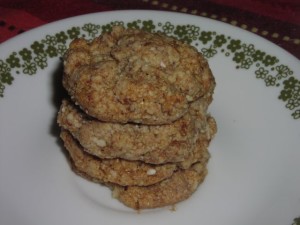 Ricki's Easiest Almond Cookies and her Grain-Free Raw Cookie Dough Bites.
The cookies were just as easy as advertised, and they had just the right amount of sweetness to be satisfying. They were soft, which I love.
The cookie dough bites were simple and delicious, too (see above). And I mean, REALLY simple—5 min, one bowl. Good stuff. I doubled the recipe because I couldn't imagine sharing if I only had a few. Truth be told, I didn't do much sharing, even with a double batch!
There are a lot of other wonderful recipes that I've been eyeballing, like the Sweet Potato Brownies and Chocolate Pecan Pie.
For more goodness on Ricki, I also interviewed her on my blog ages ago. I also "adopted" her blog way back in 2008.
Disclosure: I did receive a free copy of Ricki's new book. I was not compensated for this review, and I make a point of only reviewing the books I like.