Hopefully you've seen some of the self-care retreat posts. Shirley has a wonderful one up on the power of saying no this week, Valerie has her goals to stay more present and drink more water, I had a self-care through photos roundup with my furry friends and a guest post from Linda. Debi of Hunter's Lyoness has a great post on Unconditional love up, too.
Funny thing about the self-care retreat. I had the best of intentions…(do you sense a "BUT" somewhere? Of course you do.)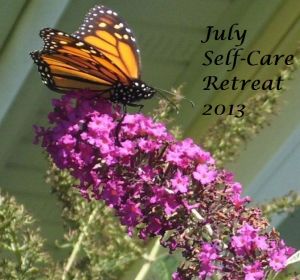 But I developed a pretty severe case of something a lot like vertigo, and it lasted for 9 days. So staying upright pretty much took up all of my time and energy, and left me pretty tense.
And, all of a sudden, it went back to normal…and I am ever so grateful.
I have been devoting a lot of time to self-care, but in a different way than I envisioned. And it's been a powerful teacher for me in a lot of ways.
I've realized how strongly I've conditioned myself to putting things together and putting on a good face no matter what. And I've come face to face (again) with the aggressive part of me who is never willing to take "no" for an answer.
Sometimes that's a gift—my stubborn insistence that I will stay upright this week (or that I will walk, or will address so many other issues) has been a big part of why I've come such a long way. I decided I'd walk again (I have). I decided I was going to be able to walk stairs again (yep!). I also have managed to make my PCOS disappear and managed most of my chronic fatigue and Lyme as well, and battled other unnamed demons along the way. I've never been willing to give up on myself or my healing.
And yet there's a "shadow side", for lack of a better term. The part that yells "there's no crying in baseball" and keeps me moving forward when I just want to crawl into a ball and hide. It's the completely merciless part that believes if I push hard enough, I'll accomplish my goals.
I totally understand and appreciate that part of me, because it's served me so well in the past. But I've also come to see how draining it is to feel like I'm fighting a battle on a full-time basis. There's a fine line, and it's easy to lose sight of it, but self-bullying and healing are really quite mutually exclusive. I'm relieved, of course that this episode is in the past and I don't need to focus on battling right now, but I'm even more proud that I got to a point of finding compassion for myself, for my body, for my situation…even in the middle of the worst of it.
So my goals roundup:
Do a compassion or gratitude meditation 4 times a week (I'm hoping for daily—this gives me wiggle room) Um…I did the 1st 4 days, that was about it.
Take 2-3 days off in July and DON'T JUST DO WORK FROM HOME
Yeah…about that. Funny story. Not so much. I did to 4 hours last week, but a whole day seems not doable.
Go back to kitty snuggle times when I get home from work, ideally daily, but 4 days a week works for me
Every day so far!
Drawing—at least 3 days a week, hopefully 5. Bonus points for breaking out the fingerpaints.
I've done 2x a week. Works for me. No fingerpaints yet.
Now that life is back to more of a normal, I'm hopeful to focus more on my goals.
I'd also love to hear from anyone out there who wants to share their self-care goals! We also have a Facebook group and we'd love to have you join us! Just send along a request (it's listed as a private group.)
As a little added incentive, for each post on your goals and your progress you link back here or one of the other co-hosts, you'll be entered to receive a $50 gift certificate to Nuts.com  (they are not sponsoring, I just wanted something with healthy gluten-free, vegan, sugar-free, etc. options)
Our fantastic group of bloggers:
Before we get into the "rules", know that the main "rule" is to relax, enjoy, take good care of yourself and have fun.
Why join us? Because self-care takes a village, too.
These posts are to inspire you all to make July a month of reflecting on self-care and the many ways to nourish ourselves.  We encourage everyone to participate in this event in a way that feels appropriate to them, whether through making different choices around food, adding in movement, personal reflection, journaling or other self-care.  If you would like to share your experience with self-care, we would love to include you in the experience, whether you join us for one week or every week. We ask that you link back to this post so that more people can learn about this retreat, and leave a comment for the weekly theme host, too! That way, we can make sure we see your post and that you're entered into the drawing.
2013 Posts thus Far:
My Self-Care Goals 2013 GF Goodness
Guest Post from Linda on Self-Care
July Self-Care Goals on City|Life|Eats
Wrap up and July Challenge on Eat, Recycle, Repeat
13 Self-Care Lessons from the Masters GF Goodness
Curious about past retreats? Recaps for July Retreats 2011 & 2012 are here:
http://www.gfgoodness.com/2012/08/05/a-july-self-retreat-recap/
http://www.gfgoodness.com/2011/08/11/4117/