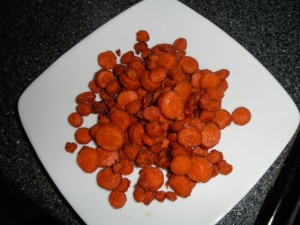 Yes, an actual a recipe! As delightful as the foxes are, I do need a break from foxy pics time to time, don't you?
A few weeks ago, I decided to start a series on Roasting veggies. I've roasted cauliflower, asparagus, onions and peppers since days of old, but never ventured beyond that and I'm here to inspire you to avoid such a tragic loss *sob*. Part one was on Roasted Green Beans.
I adore roasted carrots because to me, they're kinda like candy. Sweet, with yummy caramelized bits=crazy delicious. They're really easy. The only tedious part is the slicing, (my wrists do not like repetitive motions) and as always, I recommend bribing someone else to do it for you. Although coconut oil generally bothers my tummy, it actually doesn't for this, for reasons that make no sense to me, but I'm not complaining.
This (non-recipe) recipe is going to Kate of Eat, Recycle, Repeat's Whole Foods Potluck, which features some great, real eats! I just peeked and it looks like an amazing roundup. It's also going to Diet Dessert and Dog's Wellness Weekends.
1.5 lbs carrots, thinly sliced (that's all that fits on 2 cookie sheets or I'd definitely make more)
2 TBSP coconut oil, melted
coarse sea salt
a pinch of two of mixed herbs–rosemary, thyme, basil (optional)
Roast at 350 for an hour on until perfect. Stir ever 20 min or so.