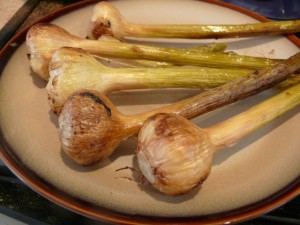 I'm a pretty free spirited gardener. So when I plant things, (like onions for example) I don't label them because I can tell the difference between carrots and onions, right? I also (apparently) tend to forget what I planted from season to season. So when these big plants came up, I thought, great! Garlic. I've never seen them so big. Awesome!
Then I went groping around, and realized there was no bulb. I know, where are my manners. And then I thought, oh no! A bed of leeks. I don't even like leeks that much! And then when I pulled them up, there was a bulb, and they looked just like spring onions at the Farmer's Market. Here's a pic.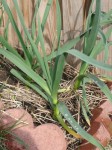 It's important to me to find something exciting to do with everything from my garden. And so I tried them creamed, and the results were a little boring. Then I figured, I really can't go wrong roasting, I think the only veggie I haven't ever roasted is rhubarb.
And so I did. The results were good, not great. Yet when I cut them open, bulbs looked strangely like garlic…because they were. Hard and soft neck garlic really don't look much alike, and that really threw me All I have to say is that vampires ran at my approach for a few days.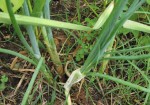 But I did have spring onions, too, and I roasted them on the second round. They are absolutely, plate-lickingly, sugary sweet and delicious when roasted. Next year, I think I'll only be planting spring onions.
So the moral of the story is that spring onions are, indeed, yummy when roasted, and time spent labeling is probably a good idea. 😉 I figured I'd share these pearls of knowledge with Weekend Herb Blogging, the brainchild of Kalyn's Kitchen. Our kind host this week is
Joanna, of Joanna's Food.
Oh…and if you're a garden lover, please check out my "Cute Fruit" round-up. for what's growing this week.
Roasted Spring Onions
6-8 spring onions
2-3 tablespoons oil
sea salt and pepper, to taste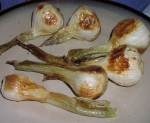 Line a rimmed cookie sheet or 9X13 pan with parchment paper. Trim the spring onions, leaving 4 or 5 inches of the green parts if desired. Coat onions with oil, salt and pepper. Roast at 350, turning every 15 minutes or so, until well browned and oozing yummy juices.
Very simple, but very yum.
Enjoy!