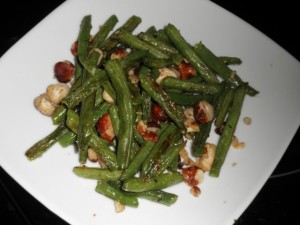 I've always roasted cauliflower, peppers, squash, and mixed veggies. And for some reason, I always stopped there. How very silly of me. And so the plan is to do a mini series to highlight other seriously yummy roasted veggies, hopefully to inspire you, too! When I posted on Easy G-Free Meals I got a lot of questions about the green bean pic, so that's a perfect place to start.
I didn't like green beans as a kid. They were overcooked, yucky looking and generally from a can. No wonder I wasn't a fan. That changed at the Farmer's Market a few years ago. Now that I'm always seeing the big bags with the ends pre-chopped at the store, it's made them much more accessible. As a bonus, I tend to go for a 20-25 min evening walk, so if I put them in before I go, they're just about perfect when I walk in the door, no stirring necessary.
LOVE green beans? Yes, you can do 2 lbs at once, just use 2 cookie sheets and change the oven position in the middle.
1 lb of string beans/green beans
2-3 Tablespoons olive oil
1 teaspoon coarse sea salt
1 small handful almonds, hazelnuts or brazilnuts, chopped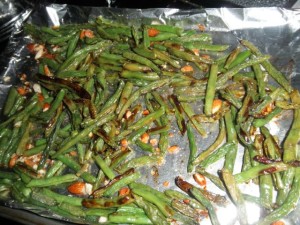 Squeeze of lemon
Preheat the oven to 350. Toss the green beans with olive oil and sea salt, and spread them on a lined cookie sheet. Bake for ~22-25 min (they should be browning on the bottom). Stir, add in the nuts, roast 5 min more. Give a good squeeze of lemon, add salt and pepper if necessary and enjoy!
I'm adding this to Iris' 5 ingredient Mondays and Ricki's Wellness Weekends.