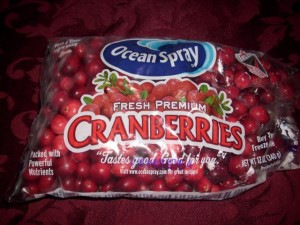 I hope you're having a fun 3 day weekend. It's lovely here and the leaves are starting to do their thing.  Since this is our first autumn in the new house, I'm looking forward to the show and anticipating true beauty!
The theme for this week is cranberries, or how to make a fat cat fly.  Now, for starters, let's just say that my cat, G, is a big dude.  I mean, a really big dude. We have a "double wide" cat scratcher and it fits just him–generally not the best sign. He was a stray and can't seem to grasp that he doesn't need to worry about food anymore.  We've tried with diet cat food, tennis balls in their dishes to slow them down and even a cat food dispenser, but he's 100% happy with how he is, and of course, I love him exactly as he is. Until he changes his mind, I will still get my ribs crushed when he walks on me and we will get lectures from the vet.  So my main approach is to try to get him moving, and the best way to do that is…cranberries.  Yep, cranberries.  If I toss him a cranberry, he'll fly across the floor and attack.  The problem, of course, is that means that cranberries end up in the darndest of places: under the fridge, inside shoes, under the futon, and are usually discovered weeks later and are rather furry.
I also love cranberries, but my main emphasis is on eating them, not chasing them.  I love them raw, simmered with a little agave, in relish, in apple crisps…and for more ideas, check out Ricki's Wellness weekend.
Onto the menu!
Monday:
Kale and white beans with olives and roasted garlic
Tues:
Simply Yum Quinoa
Weds:
Chicken with cranberry relish
Thurs:
Coconut Curried Collards with Turkey
Friday:
Leftovers
And everyone else?
Renee of Beyond Rice and Tofu has a picture of (please shield the eyes of sensitive people reading, offensive 4 letter word ahead)
Ready?
Snow.
Fortunately it was at 7000 feet, but I for one am praying for a snow and ice-less year.  She also has Moroccan Chickpeas on the menu, which sounds delish.
Amanda of Gluten Free Detroit Metro has officially finished 3 weeks of full-time, back to work mommy, which hasn't been easy.  Yahoo!  She's got Angela's White Chicken Chili on the menu.