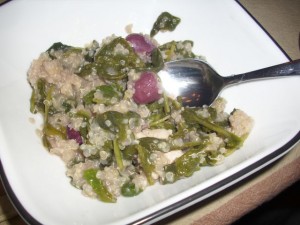 Quick and easy has been the overriding theme for the past few months and forseeable future.
And of course, that's a wonderful thing, no matter what!  So here's one of our favorite one super yummy, super simple, something-for-everyone wonders. Easily vegan, totally customizable. You've got your veggie, your protein, your carb all in one.  No chopping, no fussing, one pot and all done. It's evolved over time.  I make it with chicken when E is home, without when he's gone (I prefer without).  And I greatly prefer Mache, but if I can't find it, arugula will work in a pinch.  I need to start growing Mache because it's too expensive to keep up my habit long term!
The amounts are nowhere near precise because first, with soaked quinoa, the amount of broth you need depends on how long it's been soaking.  Personally, my tummy prefers "overcooked" quiona, when it's much softer.  Feel free to customize to your preferences.
1.5 cups quiona
2 Tablespoons olive oil
4 garlic cloves, crushed with the back of a knife blade
1 carton of Pacific broth or homemade if desired
½ cup pitted olives with a few Tablespoons of the brine, like Kalamatas OR ¼ cup lemon juice
2 clamshells of either mache, arugala or spinach. I like Mache best. Mache cooks quicker than arugala.
Salt and pepper to taste
Soak 1 ½ cups of quinoa overnight in more than enough water to cover.  Drain, rinse.
Heat olive oil on medium.  Crush a few cloves of garlic.  We've still got some from the garden—how awesome!  Sauté garlic until you start smelling that wonderful aroma.  Toss in the quinoa, add in 4 qts broth.  Simmer, covered for about 12 min.
Add in a clamshell of arugula and the pitted olives or ¼ cup lemon juice.  2 min later, stir and add Mache.  They need to be added one at a time or there's not enough room in the pot!  Let it wilt uncovered, and cook until quinoa is cooked fully.
NOTE: if you love a non-vegan, when the quinoa is starting to unfurl (about 5 min from the end), add 2 diced raw chicken breasts.
I am submitting this to Wellness Weekends, as hosted by the most delicious Ricki of Diet, Dessert and Dogs. This week's entries are here.