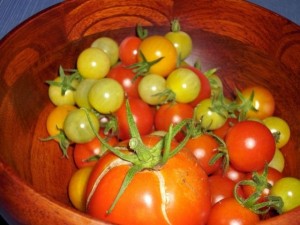 I hope everyone has weathered the earthquake and storm with grace.  What a week, huh?  I had a good one, and a relaxing weekend, which was way long overdue.  The storm gave me extra opportunity to sit home and do nothing, which was exactly what I needed.
I'm hosting this week's menu plan with the theme of tomatoes.  Usually, by this time of year, my kitchen is overrun with tiny gems of various colors. Above is a picture from last year.
This year, tomatoes are the snack of choice of area deer.  I thought I would have a lovely picture (this is last year's bounty), but nope!  I do have a few that I snagged before they did, though.
I hope you all had better luck holding on to your tomatoes than I did.
As a weekly re-cap, I posted one of my favorite recipes, Simply Yum Quinoa, which is a quick, easy, one pot meal.  Diane of the WHOLE Gang has a great auction for Jeannie (see her blog for the whole scoop).  And Carrie, the Ginger Lemon Girl has an e-book of her favorite recipes out!  Life is good.
Monday:
Chicken and celery in a chestnut sauce
Tues:
Salmon on a bed of greens with herbs
Weds:
Coconut collard curry (say that 10 times fast, I dare you!)
Thurs:
Sniffle stew
Friday:
Simply Yum Quinoa!
Renee of Beyond Rice and Tofu is a lucky woman. She's got Green Zebras and Napa Grape Tomatoes in her garden! She's been exploring new cookbooks and has a garden heavy quinoa recipe on the menu, too.
Let's have a warm welcome for Gluten Free in Detroit! Amanda is a fan of menu planning for budget reasons. She doesn't have tomatoes because of the wacky weather, but is hoping for the generosity of neighboring gardeners. She's off to a BBQ tonight, which sounds like fun!