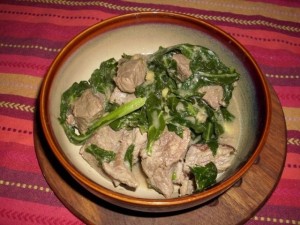 I love collards. And to think that for 25 or so years of my life, I had no idea what I was missing out on!  I grew up in NY and never really tasted them, or if I did, I didn't remember it.  But Virginia is "Southern country" and they were a staple at potlucks.  Granted, generally 'round these parts they're served with ham, but I liked them enough that I was intrigued and determined to find another way to enjoy them. They're best right after the first winter frost, but it's one of the few things I can still find at the Farmer's Markets even now, and it's nice to have locally grown on the menu.
The most miraculous part of all of this is that DH ate them…and asked for more.  Somehow perhaps it has escaped him that indeed, the green stuff is a vegetable?  I won't mention it and hope that he doesn't his mind!  But they are so buttery when they cook up in the coconut curry that we've ended up fighting over leftovers.  Yum.
I use coconut meat to make a coconut milk, but I'm sure canned would work just as well.  I often brown chicken or another protein or toss in leftovers for a heartier meal, but it works just as nicely in vegan form.
And, of course, you can add in some cayenne for a little extra kick if you're so inclined!
Last year, I grew my own collards and used them in a yummy African inspired Almond Stew, but this year, the rabbits chewed them down to the ribs.  I guess that's what I get for pulling up the carrots.
Large bunch of collards, stems removed
2 inch knob of ginger, peeled and minced finely
3 cloves garlic, minced
3 tablespoons oil
2 teaspoons garam masala powder
meat of one young coconut and water (2 cups total when blended)
Bring a large pot of water to boil. Add collards, let boil vigorously for 20 minutes (or more, to preference). Drain, reserving 1 1/2 cups of the collard water. Blend water with coconut (this is your coconut milk!). Chop collards coarsely.
If making a version with meat, brown meat in the oil and reserve. Saute ginger and garlic in oil until fragrant. Add in garam masala powder and stir for a minute. Add in coconut mill, the greens and browned protein (optional). Allow to cook and thicken for 8-10 minutes, or until desired consistency is reached.
Serve and enjoy!
I'm serving up these collards for Weekend Herb Blogging, originated by Kalyn
. Now our kind coordinator is Haalo, and she's hosting this week, too! Collards aren't unusual veggies, but I'm not familiar with them in curried form, so I hope this counts.