We're having a free for all this week, since I didn't post an ingredient earlier. Since it's one of my favorites, let's say the magic ingredient is garlic, because that's an easy one to work in! If you'd like to host future weeks, please do drop me a line!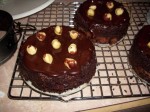 Last week was a tasty one, and I posted Curried Coconut Greens and made a tweaked version of my Nana Skillet Bread, too. As a treat to DH, I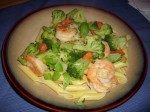 made a few mini chocolate hazelnut cakes (AKA Erik's Cake) I will post the recipe soon, and shrimp scampi was even on the menu! What can I say, I've missed playing in the kitchen and enjoyed playing again.
Monday:
Grillin'
Chicken in green goo (a parsley/garlic/rosemary marinade) with grilled peppers
Tuesday:
Vegan
Southwestern Quinoa with avocado
Wednesday:
Baked thyme salmon and roasted asparagus
Thursday:
Vegan
Malaysian Sunflower Curry with broccoli
Friday:
"breaded" Turkey cutlets and celery in chestnut sauce
Dessert:
Chocolate coconut "pudding"
And everyone else?
Sea shares a creamy pasta dish with a lovely looking tahini and basil sauce, and there's a great East Indian Chili on the menu that looks great, too!
Kim at Gluten Free is Life says she has a simple menu plan, but don't believe her! Butterscotch brownies? Carob fudge? if that's being a slacker, I'm not sure where that leaves me!!
Wendy at Celiacs in the house makes good use of garlic this week, and has some great crockpot dishes on the menu. But what really caught my eye is her Kale pizza…hopefully we hear more!
Elizabeth and Weird and surprisingly good is focusing on getting more protein while staying on an allergen free menu. She's got Catfish chowder in the works, and it sounds yummy.
Elizabeth at A Modern Gal has a great looking, vegan recipe for Banana Oat Bars.  She's also got a bunch of nice looking bean dishes in the line up, and plans to try tempeh.
Last but certainly not least, we have a Gluten free and vegan menu from In My Box.  Not only is she hosting Sugar High Fridays this week, but she's got a bunch of Moosewood recipes in the lineup, too.  Seems like everyone is having black eyed peas this week!