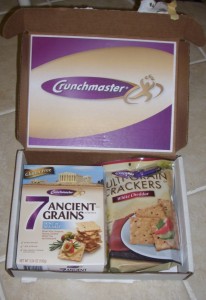 I usually don't do reviews.  The reason I made an exception for Crunchmaster's crackers is because nutritionally, they're actually *gasp* on the decent end of things.  Most GF crackers are rice crackers or corn starch or potato starch and such with very little fiber.  And of course I was lured in by the idea of great gluten free grains.
So first the taste reviews:
I confess, I didn't realize the flash drive contained recipes.  I'm not sure how that escaped me.  So I did have tasters, but they were just tasting—we didn't get to the recipes.  Whoops.
E loved them.  Usually he complains that crackers are tasteless, (and, to be honest, sometimes doesn't like my crackers) but he enjoyed the crunch and crispy-ness.
My MIL thought they were good, and addictive, too.
Nutrition-wise—
First, I love that they're GIG certified.  Yahoo for companies that go the extra mile to guarantee our safety (Cheryl blows Crunchmasters a kiss)
We received the sea salt and the cheddar.  The cheddar had 3 grams of fiber per serving (nice!) and the whole grains were pretty high on the list of ingredients.  For the 7 ancient grain hint of sea salt ones…yes, it has grains, but potato starch is much higher on the list of the healthy grains, and there's a measly 1 gram of fiber (a good indicator of the amount/intactness of whole grain/seed).  I vote they figure out a way to include more of the whole grains and less potato starch.  Even ground brown rice flour isn't very nutritious.
All and all, I would recommend Crunchmasters, and I will get them again for E.  I like the idea of the 5 seed ones with flax and chia particularly.
And although I'm reviewing something given to me, my opinions are solely my own.