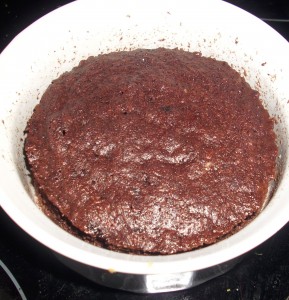 I received a copy of Roben Ryberg's Gluten-Free in 5 Minutes to review.  As I looked back, they did say it was a microwave cookbook, and yet my brain skipped over that part.  When I realized it was a microwave cookbook, I was positive I would dislike it.  I rarely use the microwave.  I pretty much only use it to melt chocolate, since a double boiler takes so long.  I also am very careful not to microwave in plastics due to possible health concerns.  And I love the way my house smells when I'm in the middle of a baking project.  You just can't get that the same way in a microwave!
And yet…many people use the microwave every day.  Many people are cooking for 1 or two, or are in a dorm, or they're in a rush…so I decided to take my 'food snob' hat off and give it a whirl.  I also really found the concept intriguing, because, well, I'd never really thought much about it before.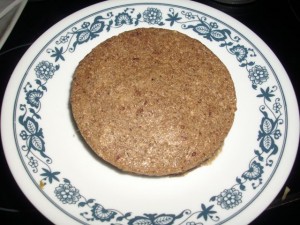 Since I'm allergic to egg and almost all recipes were egg-based, DH was the tester.  I made the chocolate cake with sorghum, and, as he put it, it looked like meat alternative.  Not in a good way.  I didn't frost because I wanted an honest opinion of the cake.  The verdict–too chewy, but yummy.  DH ate all of it.
I didn't want to give a unenthused review without a thorough trial, so I opted for the Extreme chocolate cake (picture above).  Extreme chocolate–where can you go wrong?  He loved it.  As I passed by, I remarked that the book said the cake served two…he promptly asked who was going to take it from him.
I planned to make a third, but DH has been away and another close friend is dead set against microwaving.  I do want to try out one of the rolls.  I'll have to add it in afterwards to the review.
Overall, I would say it's really quite a unique concept and absolutely fits a niche of people who want good, quick, easy GF baked goods.   Clean up was a breeze–I just popped the dish in the dishwasher, and poof!  Nutritionally the recipes were pretty decent, too.  Despite my innate love of my oven, I will use this again for DH because it's easy, he loves chocolate, and I love him.
On the 'cons' side, a lot of the ingredients are things we don't have handy–baby food, orange juice concentrate, apple sauce, etc.