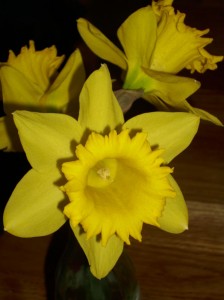 Happy Spring!  Yes, that's not what the calendar says, but as far as I'm concerned, if my daffodils are up, it's Spring.  Wow…this weekend flew.  Some of it was losing an hour, but I could have sworn I've lost at least 3 hours this weekend.  I'm not sure where they've gone!
As we're getting our house ready to move, the scurrying, cleaning and organizing is eating up a big chunk of my time and energy.  And the tastiest avoidance behavior, AKA, "oh, I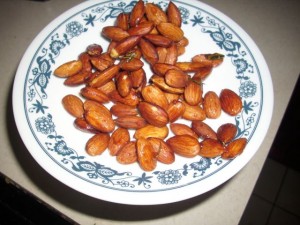 could make X" so I don't have to do said cleaning and organizing.  So this weekend, I made a cherry crisp,  a lovechild/hybrid Amy's Spicy Cashews with the spices from Elana's Smoked Paprika Almonds, and a crust free Chocolate Raspberry Pie.  And posted the very simple and easy Chocolate Chai.
I will also be teaching a class on Gluten-free and Healthy Eating, and we'll be making Cinnamon Apple Millet.  So if you're in the Bethesda, MD area on March 19th, do come and say hi.
And all of this leads to my topic for this week's MPM, which is quick and easy meals.  I seriously need to focus my energy on what's necessary rather than what I'd prefer, at least for a bit.  So I look to all of you for inspiration and your favorites!
Monday:
Garlicky Quinoa with Mache
Tues:
Crockpot orange BBQ beef for E, Kalamata Hummus and greens for me

Weds:
Curried Coconut Chicken with roasted cauliflower
Thurs:
Beef & Celery Stew

Friday:
Leftovers

Baked goods:
Elana's Irish Soda Bread
And everyone else?
Heather of Celiac Family has a pictoral menu plan, which is always fun, but it's the potato farls that caught my eye.  I can pretty definitively say that I probably don't even have a drop of Irish blood and don't have a lot of familiarity with Irish foods, so I was fascinated.
Wendy of Celiacs in the House has a gorgeous winter snow picture with buds peaking through, and such a contrast to the daffodils!  She's got Corned Beef and Cabbage (w/gf beer, of course) on the menu, and cheddar muffins, too.
Nicola of G-free Mom has an amazing post up on the delicate balance of emotions after a tragedy. She reflects on the tsunami in Japan and our role, and says "every small step we take to make the world a better place within our own sphere of influence has to be of relevance."  Her way of brightening the world is by spreading nutritious food.  And who am I to argue?
Renee, of Beyond Rice and Tofu graces us with a vegetarian menu and a chickpea curry that sounds delicious.  She's planning on making Irish soda bread, too.  Between Elana's and Amy's and Karina's recipes, the gf community is set!