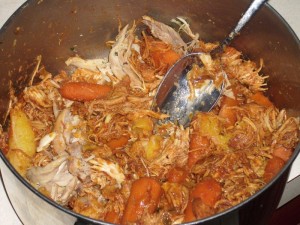 There's been a lot of slow cooking this weekend–me, a ginormous pot of chicken broth, and for E, a big ole' vat of orange barbecue chicken with carrots. (see "recipe" below)  Both very low maintenance, since I'm a bit under the weather (and grumpy, to tell the truth).  I missed a mediation retreat this weekend, and I had been eagerly anticipating it for months, so I'm having a bit of a pity party.  I get sick rarely, so I have no real grounds for complaint, but I do wish I were more of my normal self.
Our kind hostess this week is Angela (and you, too can be a host/hostess!  See MPM HQTRS for more details) Rather weather appropriately, Angela of Angela's kitchen chose slow cooking meals.
I started writing out my meal plan, and realized that until I'm feeling a bit better, I don't really know what we're having. Soup, yes. The rest? We shall see.
I also encourage you to check out Amy's post on Body Image. It touched me. I'm someone who was anorexic in high school, gained a lot when I first had medical issues, then lost gobs of weight with Celiac, then regained to normal, then Lymes'…you get the idea. So I've probably lost and gained my body weight a few times, most unintentionally. It's been interesting to see how society values people of different weights differently. And yet I feel so removed from all of that fuss. I actually went ballistic (privately, of course) after an open house where someone told me that he was sure I was a great dietitian because I looked the part. And what does that mean, really? So if I gained 20 (or 40) lbs somehow my brain would function less well?
My wish, for myself and others is to find the self love that shrinks the importance of those numbers on the scale. Because part of true self love is the desire for wholesome nourishment and movement, and sometimes weight even takes care of itself then. Beauty doesn't know size, or age. Just ask my cat. And that's a lot to live up to!
And the recipe for Orange BBQ Chicken:
Take 1- 1.5 lbs of chicken (leftover from soup, maybe?) and cook on low heat with a bottle of BBQ sauce and 2 organic oranges, in pieces.  It's done when everything is nice and tender.