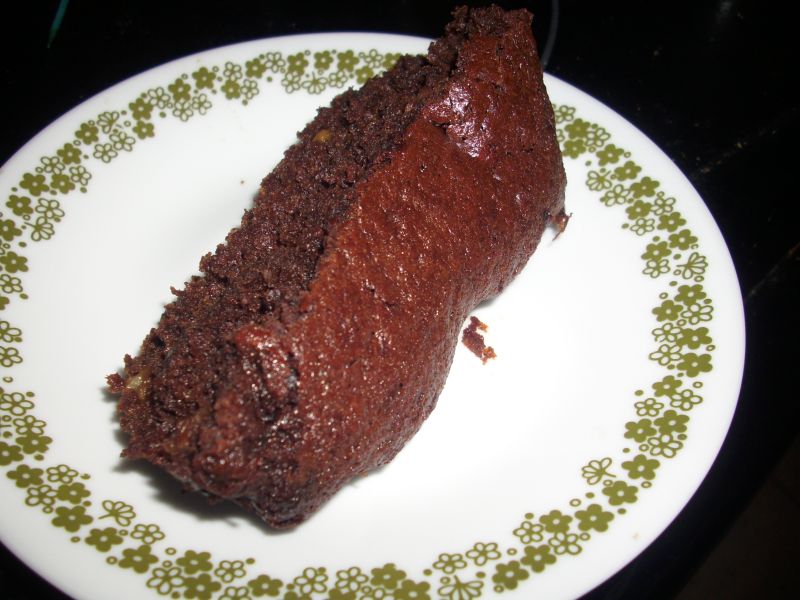 It was a lazy Saturday afternoon, and as usual, I was procrastinating, so I asked my sweetie if he wanted a treat.  "Yes–something good, something chocolate".  Smart guy.  We did the kitchen survey–a few over-ripe bananas, some eggs leftover from T-day, and some yogurt about to expire.  So the obvious answer was banana bread, and his chocolate preference led this to be my first ever–but definitely not last– chocolate banana bread.
Banana bread is really a gluten free wonder.  It's easy to convert, reasonably healthy, and above all, tastes great!  This was one of DH's favorite recipes, and I know this because I hid the leftovers to take to work, and he dug them out and found them. Most of my recipes are a hit (sooner or later) but this one was a huge winner right off the bat. So definitely make this gluten-dairy-sugar free treat.  It's decadent enough to feel like quite a treat, but healthy enough that it passes my nutritionist-test.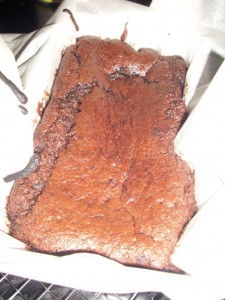 And for my vegan/egg allergic friends, make my Nana Skillet Bread instead.  No, it's not chocolate, but boy it is one of my all-time favorites.
2 medium sized bananas, put in a baggie and well squished.
1/3 cup walnut oil
2 eggs
1 cup coconut/palm sugar (regular sugar is fine)
2 teaspoons vanilla extract
splash of coffee extract
1/2 cup yogurt, drained (non-dairy works, too)*
1/2 cup teff flour
1/2 cup cocoa powder
1/2 cup arrowroot powder
1/2 tsp cinnamon
1/4 tsp stevia powder
1/2 tsp salt
1 tsp baking soda
1/2 cup chopped walnuts (optional)
*note:  I've never done it with Greek yogurt.  If you do, let me know!
Preheat oven to 350.
Squish the bananas in a plastic zip lock–it's fun, kids love to do it too. When done, cut the baggie open and dump in to a bowl. Add in the rest of the wet ingredients and stir together well. Mix dry ingredients together, then combine wet and dry and mix until combined. Stir in walnuts if using.
Pour into a 9X5 lined with parchment. Or, if you're not lazy, oil and dust a 9X5 with cocoa powder. Add batter and bake about 60 min or until a toothpick comes out clean.
I'm submitting this to Simply Sugar and Gluten Free's Slightly Indulgent Tuesdays, because this is the perfect blend of healthy and indulgent yum.
Also, she links to Share our Strength's No Child Hungry Pledge, which is a great cause. And, one might argue, the purpose of the season, although my cats firmly believe that December is the holiday of empty boxes, ribbons and fun packing materials. To each their own, I say!