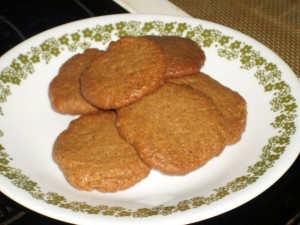 I posted a recipe for Easy Almond Cookies a while back, but these…these are even easier.   I enjoy both and can't say which I like better, the other have much more of a hearty texture while these are delicious wafer-ish almond cookies. Quite frankly, I'd be happy just to alternate!
They're gluten free, vegan, sugar free, too, and they freeze very well, so do feel free to double (or triple) the recipe as you see fit.  And as far as (tasty!) cookies go, they're pretty darn good for you.  Calcium, protein and iron from the almonds, omega 3s and fiber from the flax, yummy from the coconut sugar…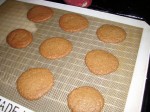 The recipe uses coconut or palm sugar, which I've come to really enjoy.  Most sites say you can replace it 1:1 with sugar, I find that it's much less sweet.  But what it lacks in sweetness, it more than compensates with caramel-y goodness.  It's also a sustainable and environmentally friendly food with a low glycemic load.  I just wish I could find it locally and then it would be just about perfect.
1/4 cup roasted almond butter
1/4 cup coconut palm sugar
1 Tablespoon ground flax seed
1 Tablespoon agave
1/2 tsp vanilla powder or extract
a good pinch of salt
Preheat oven to 350. Combine all ingredients and stir together well. Roll walnut sized balls and flatten with the palm of your hand and place on a silpat or parchment paper. Bake for 9 minutes, just until set when edges are just starting to brown slightly.
Allow to cool…seriously…or they will crumble. They harden in 10 minutes or so on a cooling rack.
Enjoy!
I will be submitting this to Amy's Slightly Indulgent Tuesday.  This week's page is here. Like almost all of my recipes, they're indulgent with a healthy-ish flair.