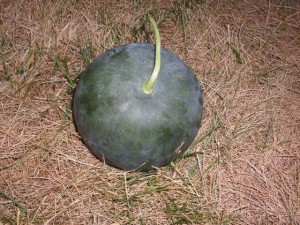 What a week! My sweetheart has been having tummy troubles. And no, it's not Celiac. (funny to see where my brain goes…) It's been quite a challenge because he seems to have attacks of pain regardless of what he eats, so we've been having very bland and simple SMALL meals and going for low fat while he goes through the gobs of tests and such. Please send digestive warm fuzzies in his direction.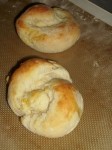 So for E, there have been rolls…and jam… and gobs of smoothies. Yay Vitamix.  And for me, Easy Easiest Almond Cookies! But seriously, this is getting old. Hopefully we figure something out soon.
My garden has been loving the hot weather, although it's been so dry that many of my plants have been taking a beating, especially since I haven't been watering aggressively as I should be. I'm quite taken with this cute little watermelon (see above) and it's unusual for me to have them this early! I did also finally dig up the remainder of the garlic, which should hold me a good long while and keep any an all vampires at bay.
This week's Menu Plan is hosted by Heather of Celiac Family. She's chosen salads. I've been OD'ing on salads lately because Wegmans sells a vat of organic greens, but it's enough for a family, and DH doesn't usually eat lettuce. After eating one last week, I'm laying low, but I saw a bag of mache lettuce at Trader Joe's and it said perfect with avocado, so I'll be having that with some home grown tomatoes and pinenuts sometime this week…yum! I've also got a quinoa salad on the menu. I'm not sure what herbs I'll put in yet, though.
Menu Plan:
Monday:
Chicken in a lemony basil sauce and fennel
Tuesday: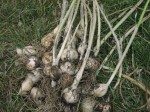 Quinoa Salad with broccoli
Weds:
Turkey and celery in a thyme-chestnut sauce
Thursday:
Mache salad with tomatoes, avocado and pine nuts
Friday:
Leftovers…
From my garden
Garlic
Basil
tomatoes
peppers
cukes
kale
watermelon
blackberries (just a few)