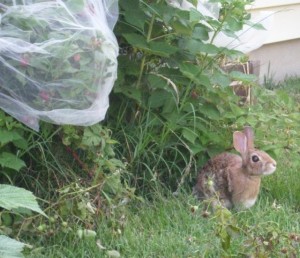 So it's berry time around these parts.  Every day (or twice a day!) I'm out picking raspberries and getting to spend time with the others who are also munching on the berries–mostly birds and bunnies, and an occasional deer.  We've got a lot of raspberries at this point, and will for a week or two.  I've got a huge bag in my freezer and have been eating more than I can handle.  The birds have been pretty good so far.  Either that or there are so many berries that I don't really notice.
Pretty much, my main recipe for raspberries is pick, then eat.  Repeat.  These are very flavorful but don't keep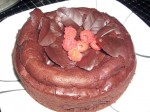 well.  They get soft pretty quickly.
I did make a raspberry tart, and it was beautiful–vegan, using agar agar, and it melted.  Or maybe oozed is the right word.  I also made a flourless chocolate raspberry cake–pretty much a standard flourless cake, gobs of eggs, etc. and dunked some rasps on top.   It was well enjoyed!
As for other berries, I harvested one blueberry this year.  Yep, one.  And (since this is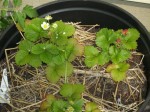 our theme for this week) I DO have strawberry plants, but they're not doing much.  And I'm allergic, so aside from making tuxedoed strawberries once or twice a year, I don't do much with them.
So head on to Celiac Family to see the strawberry inspired recipes that Heather and co have posted!
Monday:
Masala chicken with broccoli (recipe from Spice and herb bible)
Tuesday:
Quinoa with kale pesto, using some kale from my garden
Weds:
Coconut bison curry with garlic roasted cauliflower
Thursday:
Rosemary roasted salmon…which we haven't had in way too long. I love salmon!
Friday:
leftovers
Baked goods:
I will most likely make a chocolate hazelnut torte. or cookies. both would be overkill!
in my garden:
artichokes!
tomatoes (got two so far, direct to mouth)
basil
thyme, oregano, etc.
garlic scapes
um, raspberries!!!
kale
farmer's market:
asparagus
kale
spring onions