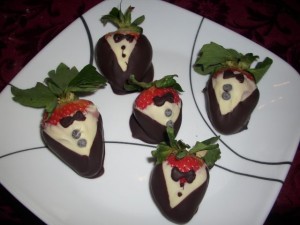 A simple, easy, Valentine's treat! There's still time to make these babies. I must say, I like eating seasonally and we were in Santa Barbara a few years back for Valentine's Day and got HUGE luscious organic strawberries and the scent alone was intoxicating…we're not as lucky here in VA but they're still an impressive treat to delight the ones you love.
If you have cocoa butter, it makes the white chocolate spread much better and keeps it from burning. If not, just dip 'em in chocolate and call it a day!
1/2 cup white chocolate or, for dairy free, parve white baking chips (check label)
1 inch cube cocoa butter
4 oz good quality dark chocolate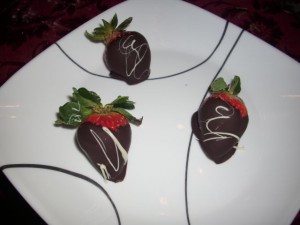 Melt white chocolate (20 second intervals in a glass microwave safe bowl). It takes about 60 seconds.
Dip strawberries, allow to cool
Melt chocolate, about 1.5 minutes in the microwave. Dip, draw on assorted ties and buttons.
If you want to use EL's mini chips, put them on RIGHT after dipping the white chocolate.
Allow to cool on wax paper, do not cover or they get sticky.
I have not made these babies sugar free because the grain sweetened chips have barley; if anyone has thoughts, I'm all ears!
I've submitted these to Amy's Slightly Indulgent Tuesday roundup.  Go on and check out the other treats there!