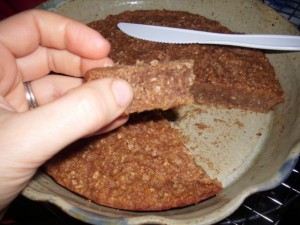 Mmmm….
Usually I'm not big into breakfasts.  Well, I was, ages ago, but since giving up most simple carbs and dairy and eggs…not so much.  A bowl of millet on occasion is quite delightful, but hands down, my favorite is Chai Breakfast Cake.  I haven't posted it sooner simply because I always forget what I add in and change it around, but this time I was a good note taker.  And while I like it as is, I plan to try taking about the salba the next time around and see how the consistency changes.  As posted below, it has a sticky consistency that I like, but I think I'd like it the other
In addition to being a simply decadently delicious, vegan, sugar free treat, (and a good source of protein, too!) it's also a perfect to bake up the night before, which can be challenging in gluten-free land.  So enjoy, and tell me what you think.
For those who are so inclined to play:
hazelnuts are delicious, cacoa nibs are heavenly, and I'm getting hungry!
3/4 cup strong chai tea
½ cup  agave
1 tsp almond extract
1 TBSP vanilla extract
3/4 cup uncooked quinoa flakes or quick cook GF oats
1 cup almonds
2 T cornstarch/arrowroot
2.5 tsp baking powder
1/2 tsp salt
1/4 tsp stevia
1 heaping tsp cinnamon
1 heaping tsp ginger (use more for a spicier cake)
pinch cardamom
1 T ground Salba/chia
1/2 cup unsweetened flaked coconut
Grease a 8 inch round pan and pre-heat to 325.
Boil a cup of water, add in 3 bags of Chai tea and steep for a good 10 min or so.  Remove bags, measure out 3/4 cup.
Grind the almonds, and arrowroot in a food processor until you have a coarse ground meal, but no nut butter.  Add in the quiona flakes and pulse 30 seconds more.  Add salt, stevia, spices, and Salba and then the tea and agave and mix for 1 min.  Mix in coconut, allow the batter to stand 10 minutes.
Add batter to the pan and bake until browning on top and a toothpick comes out clean–mine took about 30 min but our oven has been temperamental so please do check as you go.
Enjoy!
I will be submitting this to the Simply gluten and Sugar Free's Slightly indulgent Tuesdays (although I think it's more than slightly indulgent!)