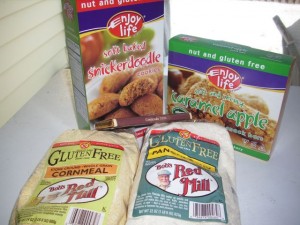 I've had a few unexpected things pop up so this brief: I've had very few hosts for Menu Plan Monday lately. So in the spirit of making things more interesting, there's a giveaway from now until March 18th. Leave a comment below telling me why menu planning is helpful to you (one entry) or for two, sign up as a host and email me cheryl(at)eharrishome DOT com and let me know desired date and ingredient. I will announce a lucky winner on March 20th.
I'll be giving away the items in the picture There are Enjoy life bars and cookies, a (soy free!) Dagoba chocolate bar, Bob's Red mill pancake and certified GF cornmeal (All are GF, CF, soy free and vegan) and a big old bottle of Salba which isn't pictured. US winners only due to shipping costs (sorry!) If you're allergic to something let me know and we'll work something out, yes?
Our hostess this week is Heather of Celiac Family and we have a fish theme. My cats approve, and so do I!
Wishing you all a wonderful and peaceful week!