The February 2010 Daring Bakers' challenge was hosted by Aparna of My Diverse Kitchen and Deeba of Passionate About Baking. They chose Tiramisu as the challenge for the month. Their challenge recipe is based on recipes from The Washington Post, Cordon Bleu at Home and Baking Obsession.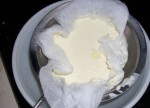 Ah, time for the monthly Daring Baker indulgent delight. Whew, what a lot of work.  We made ladyfingers, mascarpone, zabaglione, pastry cream, whipped cream, and then assemble and decorate, too!      It looked lovely and was gobbled down.  Largely by my DH, and he kept trying to justify it, too.  I haven't made a tiramsu in 10 years or so, I guess I (he) was due! Obviously I made it GF, just using GF flour instead of cake flour, but I followed everything else as written, except I dipped the lady fingers in a strong chocolate concoction rather than espresso (DH hates coffee).  My major gripe was with the mascrapone-you can't get it up to 190.  You just can't.  Or I couldn't, and I stirred and stirred for 45 minutes each time.  So if you do opt to give a go, do ignore the temparature part of those directions.  I confess, it is so unusual for me to follow directions that to follow them verbatim (3X) and have them not work as anticipated was frustrating.  It DOES work, just the temps don't jive.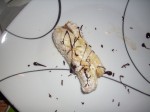 I used some of the extra filling to make little tiramisu-lettes, which were well appreciated. I did it over 5 days which worked just fine.   And as directed, the original

recipes are on the DB site.
As always, do check out the other DB creations–they are always works of art.  And I can't wait to find out what's next in store!