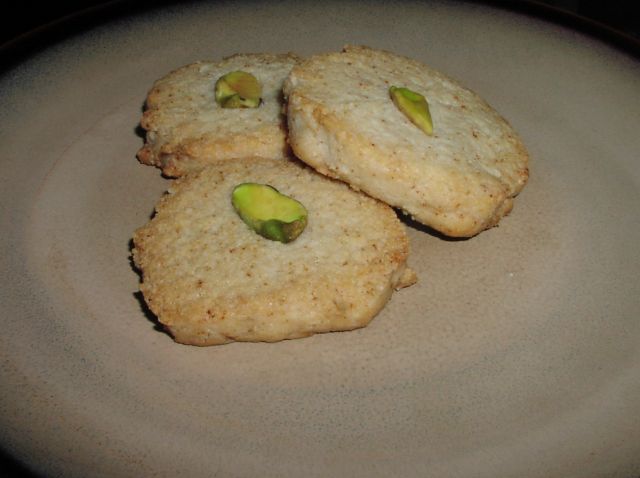 As my family is Middle Eastern, I grew up adoring baklava, hummus, shwarma, halva, tahini, and all that good stuff. Since developing allergies to…let's see, ingredients in all of the above, I've really been missing the tastes of family and celebration across the years.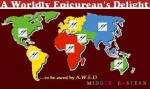 So when I accidentally happened upon Siri's Corner and and her Middle Eastern recipe challenge AWED:Middle Eastern I figured it was time to start playing and bring back some of the old flavors, even if they were in new form. The experimentation process was quite fun. Really, how can you go wrong with ingredients like these?
The result was a satisfying, shortbread-ish cookie with a whiff of rosewater. Unlike most Middle-eastern treats, they are not very sweet. If you have a sweet tooth, you'll want to dust with sugar. I'll have to try these with orange blossom water sometime, too. I might also make them into thumbprint cookies with a dab of raspberry jam…
1 3/4 cup finely ground blanched almond flour
pinch of sea salt
1/2 teaspoon baking powder
3 Tablespoons almond or other oil
2 generous Tablespoons honey (for vegan or low glycemic, use agave)
1 teaspoon rosewater
1/2 teaspoon almond extract
slivered almonds or pistachios (optional)
Mix flour, sea salt, and baking powder. Mix honey oil and rosewater, microwave (or put in a hot oven) briefly to soften the honey. Add to the almond mix and stir.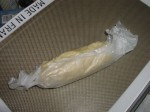 Briefly kneed together, put on wax paper and roll into a log. Refrigerate a few hours or overnight. Preheat to 350. Cut slices 1/8-1/4 inch thick and place on a silpat. Press in an almond or pistachio, if desired. Bake for 6-7 minutes or until starting to brown.
Enjoy.
~from Cheryl's kitchen ©2008. Please do not replicate without crediting/permission.