This week is going to be another busy week, and there are quite a few days when I simply won't be home at dinner time, so planning before hand is even more important, so that my husband simply has to put something pre-prepared in the oven. The ingredient of the week is egg. I am very allergic to egg, so you won't be seeing it in my menu! However, I do have chicken planned, does that count? 😉
Our host this week is Manda at Asparagus Thin, who always has a great, global menu.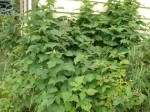 My garden is bursting with raspberries canes, and they're fruiting! I bought a few raspberry plants a few years back and they never grew. I decided to try once more, and that ONE plant has become 30 or so. It's such a big patch of raspberry canes that I was watering it last summer, and a very indignant rabbit hopped out. Oops.
Most of the time, we've been having raspberries plain, but as the season goes on, I'll have to find something fun to do with them.
Monday:
Fish
Halibut with parsley hazelnut pesto and carrots
Tuesday:
Brined lemony baked chicken breasts with fresh mint and roasted cauliflower with rosemary
Wednesday:
Vegan
Tomato and caramelized onion soup (from my freezer)
Avocado
Thursday:
Freezer diving
Turkey leftovers with rhubarb
Friday:
Crock pot love
Vietnamese inspired beef stew, with star anise, lemongrass, and a slew of veggies

Baked good of the week:
Almond rosewater cookies
Sheltie Girl's Truffles
Weekly garden harvest:
From my garden
Parsley
Mint
Lemongrass
Basil
Raspberries
Garlic
Garlic scrapes

From the Farmer's Market
Rhubarb (fingers crossed!)
Cabbage
Broccoli
Asparagus–last of the season