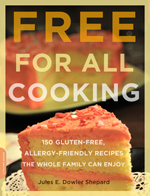 I was delighted to receive a copy of Jules Shepherd's new cookbook, Free for All Cooking. If you've seen Jules' books before, you know that many of the recipes use her special flour blend.  But as a bonus,  many of these recipes also incorporate whole fantastic whole grain flours as well, like buckwheat and oats, which I really appreciate.  And as you might suspect, most recipes contain substitutions for dairy, eggs, nuts, etc. to make them allergy friendly.
Of course, I wanted a sense of the range of recipes included, so I made the "Best Brownies Ever", the Ginger Snap Cookies and the Butternnut squash soup.  I know, twist my arm.
The brownies were a HU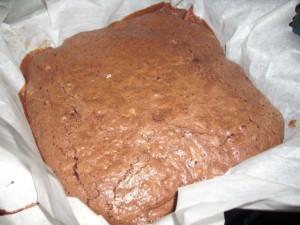 GE hit.  Chewy on the outside, gooey in the middle, chocolately yummyness galore.  My husband is used to being head guinea pig, and he takes his role very seriously.  So when I asked the million dollar question (i.e. are they the best ever?) he got very thoughtful and needed to have another to insure an accurate answer.  The final conclusion was that they are very, very good—but probably not the best ever, and yet wouldn't it be cool if I made them all the time.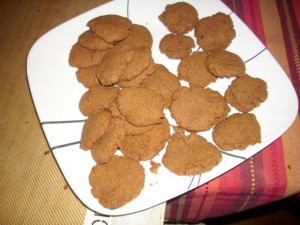 The ginger snaps were also keepers.  The texture was a little unusual first out of the oven, but much better as they cooled.  I brought a batch to work, and everyone really enjoyed them.  They were also great several days after baking, which is a rarity in the gluten-free world.
I also made butternut sq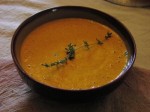 uash soup to round them out.  The recipe was very similar to one I've used for years, but I enjoyed the addition of rosemary and chili, which made it unique.
Overall, a great book.  I'm planning to make the yeast free bread, too, which looks interesting.  I would have appreciated more info on the recipes in terms of which ones are good "make ahead" options to freeze, or ones that store well.
For more info on Jules and her other books, see her website.