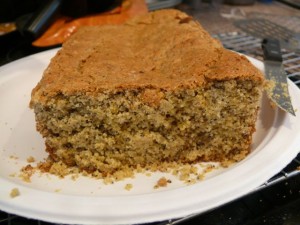 Go gourmet with this delicious vegan treat! I gave a slice to a friend, and then I was out of town for a week. When I returned, I had 3 emails requesting the recipe! I've had gluten eaters come back for seconds.  This bread is perfect for brunch or a snack, and also works as muffins. It's largely whole grain, and the Salba seeds lend a wonderful moistness. It's gluten, dairy, eggs, soy, corn and sugar free and vegan.
I've been meaning to post this recipe for a while, and am so glad I got around to it.  It won the Gluten Intolerant Groups' (GIG) Healthy recipe contest, and it is quite yummy.
There are a lot of different flours in it.  I suspect that you could substitute most of the flours with an all purpose GF mix, though I don't know if the rice bran would sub well.  If you try it, please let me know!
Salba gel
1 T whole Salba seed
¼ cup water
½ cup + 2 Tablespoons brown rice flour
½ cup sorghum flour (or teff flour)
½ cup almond meal
¼ cup rice bran
¼ cup sweet rice flour
¼ cup tapioca flour
½ teaspoon salt
1 Tablespoon baking powder
3/4 teaspoon baking soda
2 Tablespoons poppy seeds
2 Tablespoons honey (or agave, for vegan version)
¾ cup orange juice
¼ cup canola or olive oil
¼ cup agave nectar (or 1/3 cup sugar and 2 Tablespoons honey)
Zest of 1 lemon
2 Tablespoons fresh lemon juice
Line a 9X5 inch bread pan with parchment paper overhanging the edges. Preheat oven to 350º.
Combine Salba seed and water, in a small bowl, set aside. Combine all flours and starches and mix well, eliminating any lumps. Add in poppy seeds.
Zest lemon before juicing. Combine honey and warm orange juice. When well mixed, add in oil, agaves nectar, Salba gel, and lemon juice and lemon zest.
Mix wet and dry ingredients and stir until everything is combined. Bake at 350 for approximately 50 minutes, cover after 30 minutes to prevent over-browning. Check for doneness with a toothpick.
Allow to cool on a drying rack, and remove with parchment paper "handles" after 5 minutes to prevent a soggy bottom. Cool completely on drying rack.
Serve and accept compliments.
Makes one large loaf, or two 5X3 loaves or muffins.