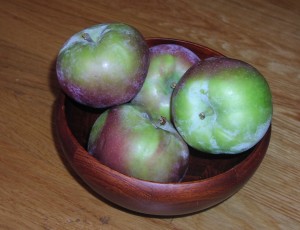 I didn't do a menu plan last week, and I had to do a lot of last minute scrambling.  Lesson learned!  So here's my plan.
This week's ingredient is apples!  Thanks to our lovely host M-elle at Cooking and Uncooking. I love apples.  Since I grew up in NY, apples=Mc Intosh.  No negotiation.  I still eat Macs, but find that now I prefer apples better suited to VA.  When I'm in NY, I still love my Macs, though.  The plan is to make a good honey apple cake sometime between now and Rosh Hashana.  Given the whole gluten/dairy/egg/corn/soy/sugar free thing, it make take a few tries to get it right.  We shall see…
Last week I posted a recipe for my lemon poppy seed bread (or muffins), and also the winner for the fun give away I was hosting.  I also went on a baking binge of a sort.  I made some molasses cookies, a peach crisp, 7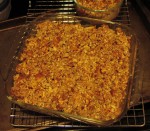 layer bars and Karina's Polenta Pear muffins (yes, I'm allergic to corn, no, they were not for me, and the corn meal I used was pretty icky, which is why they dodn't turn out well.  The smell was awesome, though.).  Most turned out well, none turned out great, which is why you're not reading more about them at this point.   And why, may you ask, am I baking like a madwoman?  Well, with my cranky ankle I can't go out and canvass to register voters at this point, and people are a lot friendlier when you offer them a cookie or a muffin.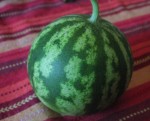 Here's my darling baby watermelon, too. I do understand that for most people "watermelon" does not usually follow the term "my daring baby" but that's ok with me. Every year I grow them, every year, only one makes it due to storms, critters, illness, etc.
Monday:
Garden herbs:
Baked chicken breasts marinated in "garden goo" (a garlicky parsley rosemary marinade)
Roasted Asparagus
Tuesday
Vegan
Perfect Guac with crackers, tomatoes and red pepper slices
Wednesday:
East Indian
Coconut curry beef stew with roasted cauliflower and papadams
Thursday:
Home made pesto with quinoa or chicken (for DH)
Sauteed broccoli raab with pine nuts
Friday:
Grillin'
Grilled Buffalo burgers with herb-y peppers
Kitchen projects:
Roasting a gob of tomatoes
Banana mini bites, using Ricki's recipe for Frosted Banana Bars
Sea's Chai muffin-letts
Garden harvest:
Watermelon!
Tomatoes
Basil
Thyme, oregano, rosemary, etc.
Celery
Cilantro
From the market:
onions
peaches, last of the season
apples
pears
tomatoes
peppers