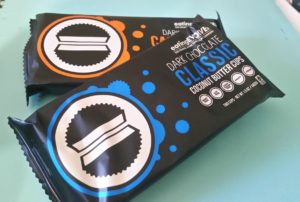 *please note, some posts on this website do contain affiliate links*
I'm in love. E doesn't seem threatened, which is a good thing. The problem is, sometimes I just can't find my beloved, or my love just can't handle sitting in the car on a hot day. And that's the downside of chocolate love.
Eating Evolved has Chocolate Coconut Butter cups, and they're just amazing. Really rich, really creamy and really satisfying. I've had the classic, the caramel and the mint (banana just doesn't sound good to me, but to each their own). They're just sweet enough, but don't give the sugar high with a crash. They're also vegan, Paleo, whole-food and simple ingredients. They're also most likely low FODMAP-ish (coconut sugar isn't tested yet)
The only problem is they can be hard to find locally. Mom's sometimes has them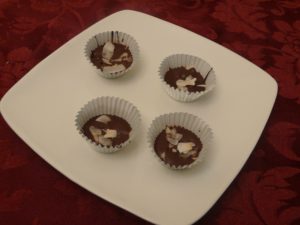 locally, and so does Roberta's in Fairfax.
You can make them at home fairly easily. I've used a recipe like my Honey Mint Cups  but just put coconut butter as the filling. They were delicious I gave (some) away around the holidays but to be totally honest, I haven't had the time to make them regularly.
I have not been reimbursed for this post and have no financial or other connection with Eating Evolved. It's simple–when you're in love, you want to tell the world!