How much for the kitteh in the window…
Houdini just turned 12 last week. 12! And he's our baby kitty; Genghis is about 15. It's been a bit of rude awakening for me that the dudes are, well, older gents. I adore them more than words, and they're just a huge and wonderful part of my life.
I go walking every morning, and Hou waits for me in the front window. If I'm not out walking, he doesn't spent time in the front window, but if I go outside, he keeps watch until I get back. G generally waits too on the carpet, but he can't miracle his butt up to the window sill. It always makes me smile, and it reminds me how much the kitty contingent loves me.
I'm also super grateful for my main (feline) dude, Genghis, and very aware of the preciousness of his kitty self. First, he's aware of the preciousness of his self, and makes of a point of reminding me. I'm also aware that he's also had more heart and thyroid issues over the years. Lately, it's been the sniffles but it's definitely getting him down, and he's less frisky. He spends a big chunk of his time on the heated floormat with me. No matter how many times I schooch him over to the side, he always flops back and paws me to remind me of the important thing(s) in life.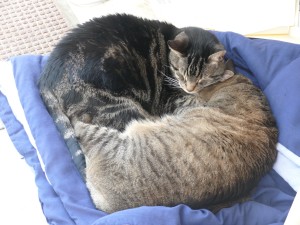 I'm also extremely grateful that G & H are great friends. Houdini loves Genghis, and Genghis loves Genghis, so they're a perfect match for each other.
I don't know if we've all got months more together or years, but in some ways, knowing that our time together is finite helps me treasure the time we have.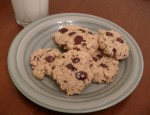 On an entirely different note, I was really excited to see Carrie review my Divine Chocolate Chip cookies, and Shirley gave them a wonderful shout out in her Gluten Free Wednesday roundup.