Happy Halloween! To celebrate, a lucky winner is getting a big box of treats from Kind Bars—24 bars and 3 pouches of granola. Yowza.
(see info on the winner below!)
The kind folks at Kind Bars contacted me and let me know about their products. I knew Kind Bars were gluten-free and easy to find, which is a huge plus. I didn't realize how awesome the flavors are, like Chocolate Chili with almonds  or Dark Chocolate Nuts and Sea Salt. I'll give you a second to ponder the wonder of chocolate and chili paired. And they even have mini Kind Bars.
They are obviously gluten-free, and per their website, they test all product to be under 20ppm. They're also GMO free.
I set my gluten-free elves to the test of reviewing the box I received, and they were over-the-top enthused. These bars aren't "good for gluten-free", they're GOOD. All reviews were rave reviews. One of my guinea pigs commented that Kind Bars should be available everywhere. Another was particularly delighted that the sugar content was so low.
One caution—somewhere along the way I "learned" that Kind Bars were dairy-free. While some are dairy-free, others do have milk powder. There are actually a wide range of kinds (ahem!) of bars, from ones that are higher in protein, ones that are higher in fiber, to ones with whole grains, etc. Most of the bars do contain rice, but the Almond Cashew with Flax bars are grain-free.
So…if you'd like to enter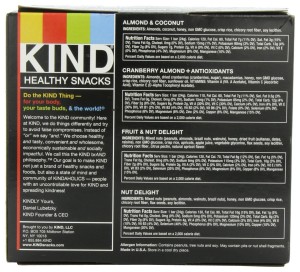 to win the bars and granola, you can do so until Weds, Nov 6th, 10pm EST.
What flavor do you most want to try? Leave me a comment.
Follow me on twitter @CherylHarrisRD and leave me a comment here telling me you did (or if you already do, just let me know)
Like me on FB and leave me a comment here telling me you did. (or if you already do, just let me know)
Share on FB or twitter.
Tell me your favorite gluten-free snack!
One entry per item above!
CONTEST CLOSED.The winner is Cathy V! Dark chocolate nuts and sea salt sounds yummy, but so does chocolate chilli with almonds! I'll just have to try both

Disclaimer: I did receive yummies from Kind free of charge, and they are donating the goodies. The views expressed here are my own.