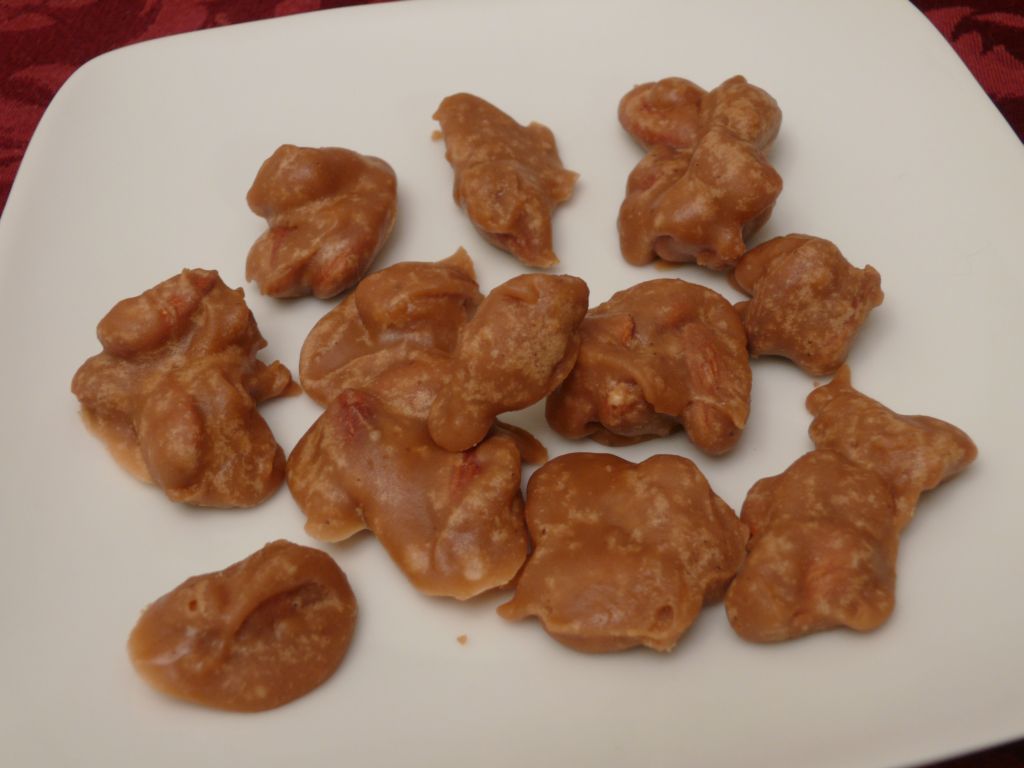 Overall, I don't miss the foods I ate way back when. I love real food and don't feel like I'm missing much. But. BUT! I love pralines. And Mr. Dude loves pralines. And so I do still make them once a year, with the cups of sugar, butter and cream, and there's not a thing about them that I can eat except the pinch of salt (pecans bother my tummy, so those are out, too). While I love the appearance and smell of pralines, it's always made me a little sad not to have them.
And then…I did it. For reals. To be honest, I never thought it would work, but it did! Not only are they delicious, but they're EASY and the recipe is quite forgiving, even, um, if you get distracted and forget about them.  Unless I'm the only one who does that. They also only have 5 ingredients.
For those of you who avoid candy thermometers like the plague: try it. I swear. It's easier than you think. I use this one.
1/3 of a cup of coconut cream (skimmed off the top of a can of full-fat coconut milk) If the coconut milk isn't solid, use 1/3 cup +1 TBSP from the top of the can
1 cup maple syrup
Pinch salt
½ cup almonds or pecans.
Pinch of ground vanilla bean—I'm sure vanilla extract would work, too.
Boil the coconut cream, the maple and the salt over medium heat until the thermometer hits 240 degrees, but even 250 still worked. (additional note: the thermometer should NOT be touching the bottom of the pan!) Remove the pot from the heat, let sit ~6 min–it will read 120 degrees. Stir in the vanilla and whisk until creamy. Stir in almonds, and portion out scant tablespoon clusters onto cookie sheets lined with wax or parchment paper. After 30 min, wrap whatever is left in wax paper and store in an airtight container.
If the "batter" gets hard and start clumping, return to the burner on low heat and add in 1 T more coconut cream.
That's it.
You're welcome.
The only hard part is not eating too many—too much coconut gives me a tummy ache, and I am SO not used to such a sugar rush.
I'm submitting this to Ricki's Wellness Weekends roundup, where there are many other vegan, refined sugar free treats and eats.