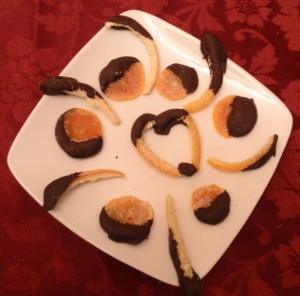 If you've clicked through to see how I made candied peel without any sugar like my other recipes, you're out of luck. I've been making these babies FOREVER and make them only once a year, and so it's become quite the winter-time tradition.
They are absolutely amazing. I mean, I love to make new and different things, and yet for some of my favorite peeps, these babies are simply the be all and end all of yummy. They're also completely allergen-friendly, except if you're allergic to citrus.
On one hand, it's a very simple recipe, but a little hard to envision so I did step-by-step. Despite the simplicity, it's a heck of a lot of steps, and it takes at least overnight to get them done. We tend to have the trays of them on every open horizontal surface…
I'm sure you've guessed–organic oranges are a must.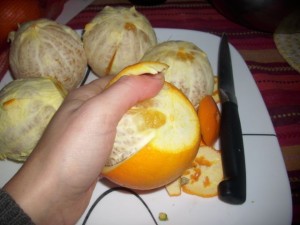 Slice the top and bottom off each orange. Score the sides with a knife in 4th or 5ths. Then slip your thumb under and loosen the peel. Bonus points if it all stays together.
Slice the peels to about ¼ inch thickness. I strongly recommend that you bribe someone to do this step for you.
Put the peels into a large sauce pot and cover with water.
Boil, and dump out the water. Repeat again. And then again. So yes, that's 3 times of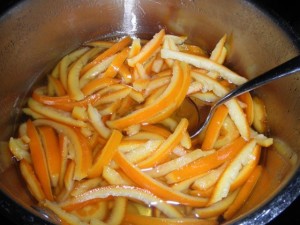 boiling and dumping.
Then measure out 3 cups of water and 3 cups sugar. (I can say I've eyeballed it for years without a problem) Bring to a boil, and simmer for 45 min-1 hour. They'll look a bit translucent.
Drain the sugary liquid into a Ball jar and save it for tea or something else fun…this batch is going to sweeten balsamic dressing on a berry salad. Spread the peels out onto wire racks or onto parchment paper. Allow them to sit for a few hours.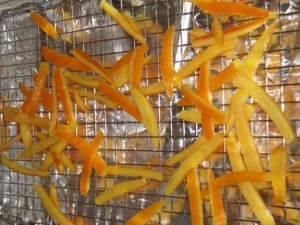 Put ½ cup of sugar in a small bowl. Add a few semi-dried peels, and toss to coat. They're still very soft at this point, and that's normal. Put them on parchment lined sheets and allow to dry overnight. Or, if you're in a rush, turn your oven to 200, turn it off and leave the peels there for ~30 min.
You'll have pools of sugar. Save that. Orange flavored sugar always does come in handy sooner or later.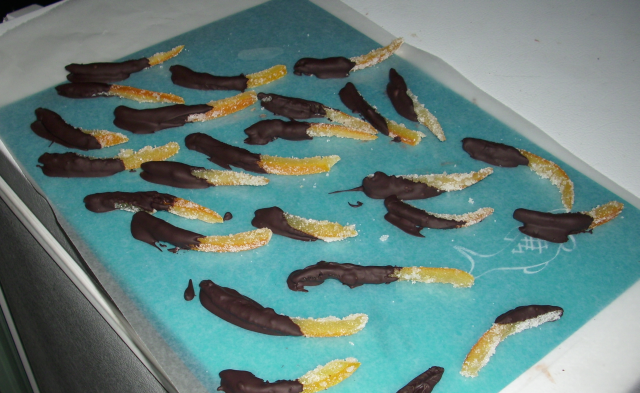 Then dip in chocolate! Nuke for 1.5 minutes or use a double boiler, and dip in the peels. It's that simple.
They keep at room temp in a sealed container for a week. The un-dipped orange peels will keep for 6 months in the freezer, too, but it's imperative that you hide them well or they will never make it that long.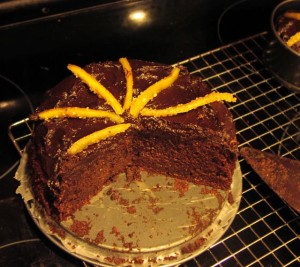 They also make beautiful decorations for cakes, cheesecakes, etc.
The cake at the left was a grain-free chocolate orange cake that was cashew based. We lost the recipe in the move, and yet it seems like not remaking it would be a crime against humanity. We shall see…