I was torn a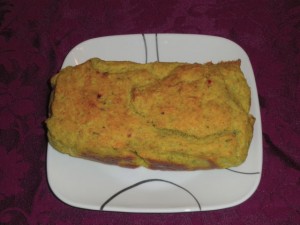 bout reviewing "The Joy of Gluten-Free, Sugar-Free Baking", because a) I only review books that I really like because I don't like giving negative reviews and b) there were some aspects of the book that I really liked, and some that really didn't fit me. And yet we all have different needs and preferences, so here goes.
On the plus side: the focus of the book is low carb, so it gives grain-free and pretty creative recipes. Almost all other books out there focus on almond or coconut flour, but this one uses sunflower flour, sesame flour, pecan flour, hazelnut flour, flax flour…a big plus for someone who doesn't like or is allergic to almond. There was a good range of recipes and I will absolutely keep it on my bookshelf at work.
On the down side: I'm a make-it-from scratch kind of girl.  I mean, seriously ridiculous. If someone wanted a pie, we'd head to the orchard, go apple picking and make one. BUT making 3 cups of flour in the spice grinder 1/4 cup at a time is extremely tedious and time consuming. For me, that takes the fun out of baking. But the larger issue was that I wasn't quite sure if I was doing it right and if the flour was the right texture. I'm guessing it wasn't, because the Italian Herb Bread I made had good flavor but it was also much too moist. So we toasted the slices and they worked much better.
I also was surprised to notice that almost every recipe contained Splenda or a particular

brand of stevia. I've only tasted Splenda once, and it was, in a word, revolting. And I've had many clients report migranes from Splenda. So I was quite disappointed at how ubiquitous it was in the book. "low carb" is one thing. Most people can tolerate a tablespoon of sweetener, especially divided by a large quantity of servings.
I, personally, am sensitive to eggs and sesame, and so I wasn't willing to get sesame on my vitamix, so that excluded lots of recipes. But that's just me…sesame is not a common allergy in adults.
I do think this is a good resource for people who follow a grain-free lifestyle and/or can't eat almond. And I do think it's neat that the authors choose to experiment with different nuts and seeds. This book will be added to the collection at my office and I'm sure it'll be appreciated.