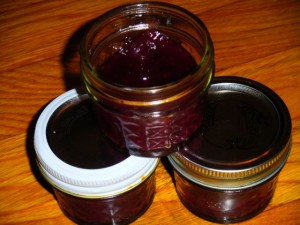 With an abundance of plums at the market, the timing couldn't be better! I do like doing this with greengage plums best because then you get more of a jam than a butter, presumably because of higher pectin levels. But now that we've got only red and black plums left, it still works beautifully.
I made this with a mixed batch of Santa Anna and black plums because that was what was handy! But with fresh ingredients, you can't go too far wrong.
14-16 plums
Water to cover
2-3 Tablespoons of agave/other sweetener
Wash plums and cut out bad spots. Pull off stems. That's it. I don't stone them because, well, it takes too long.
Put plums in a big pan with water to cover. Cover with a lid, boil like mad for 30 min.  Uncover, simmer….and simmer….and simmer.  After a few hours, you'll have mush and you can just fish out the pits.
When you're getting a pretty thick plum soup (applesauce texture), make sure the heat is on low, add in the sweetener and stir every 5-10 min.  When it's beginning to caramelize on the bottom, you're done. Allow to cool before sticking in your mouth spooning into jars.
Great by the spoon, on crackers, thin it a bit for a sauce for broccoli, chicken, etc.
I'm submitting this recipe to Wellness Weekends over at Diet, Dessert and Dogs. Head on over to find other yummy recipes!
I am ALSO linking up to Gluten Free Friday Recipes over at Vegetarian Mamma, because I didn't even know about y'all until now! There are so many new gluten-free events in the blogosphere and it's always great to learn about something new. Head on over and spread some love!