Self-Care through Cookies ahem! Creativity & an Ooey, Gooey Chocolate Chip Pie Recipe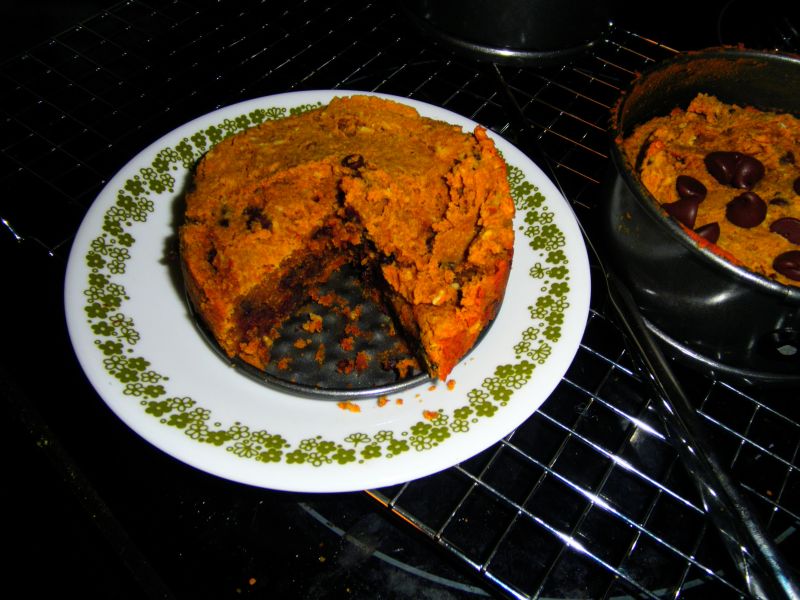 I have been thoroughly enjoying our July Self-Care Retreat with my fellow hosts: Valerie of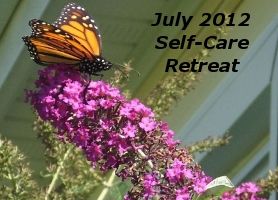 City Life Eats,  Shirley of GFE,  Carrie of Ginger Lemon Girl, Iris of Daily Dietribe.  You can also join our FB group. Our theme this week is Self-Care through Creativity, and our host is the marvelous Carrie.
I tend not to think of myself as creative, although I love to sing, draw, and write.  But oh, I am creative in the kitchen.  Since I began cooking and baking I was an adventurer, and then, of course, it became a necessity with all of the food restrictions and quirks.  It was way too long since I've created/adapted a recipe, so clearly I was due.  There's so much fun in winging it, and seeing what happens.  Granted, it's more fun when it works, but it's usually a blast regardless.
So.  Cookies.  You're here for the cookies, I know.  Fun fact: in college I was known as the cookie monster.  And Mr. Dude and I first chatted when I was making cookies.  I think that's how he got hooked.
A kind soul understood I needed more cookies in my life and pointed me toward this recipe for a Deep Dish Cookie Pie from Chocolate Covered Katie and I was quite taken with the concept.  I mean, cookie pie.  Where can you go wrong?  It was naturally gluten-free and vegan, but there were a lot of non-Cheryl friendly ingredients like sugar and oats, so I did some pretty hefty modifying with almond flour, coconut flour and shredded coconut to get the right consistency, while keeping the "magic ingredient" theme.
This turned out fantastically, and I will absolutely make it again.  It is dense because of all the fiber, but in a very satisfying and filling way.  I love the flavor and consistency, and it's also very easy to make.
BTW, I've been a longtime fan of beans in baked goods, like my Chocolate Raspberry Pie, or even this Chocolate Frosting.
1 can navy beans, rinsed and drained thoroughly
½ cup almond flour
2 Tablespoons coconut flour
2 T oil
¼ teaspoon baking soda
Pinch salt
1 cup coconut sugar
2 droppersful vanilla flavored stevia extract
2 Tablespoon unsweetened shredded coconut
1/3 cup chocolate chips or chopped chocolate bar (I may increase to ½ cup next time)
Preheat to 350, grease 2 springform mini pans.
Put the beans in the food processor and blend until smooth (1-2 min).  Add in ingredients through oil, scraping down periodically.  Add in all but the coconut and chips and process.  Briefly pulse in the coconut and chips.
The batter will be very thick.  Add to the greased springform pans.  Bake 20-25 min or until browning on top and starting to pull away from the sides.  Allow to cool for 10 min.
Enjoy!
I'm also submitting this to Wellness Weekend by Diet, Dessert and Dogs.  You'd have to use cocoa nibs rather than chips to remove sugar completely, and I will likely try that next!
For more on our Self-Care Retreat:
Our fantastic group of bloggers:
June 30th: Me! Cheryl of Gluten-Free Goodness                Food
July 7th: Valerie of City Life Eats                                 Support and connection
July 14th: Shirley of Gluten Free Easily (GFE)         Movement
July 21st: Carrie of Ginger Lemon Girl                      Creativity
July 28th Iris of The Daily Dietribe                              Inward Reflection
These posts are to inspire you all to make July a month of reflecting on self-care and the many ways to nourish ourselves.   We encourage everyone to participate in this event in a way that feels appropriate to them, whether through personal reflection, journal or other self-care.  If you would like to share your experience with self-care, we would love to include you in the experience, whether you join us for one week or every week.  You can write generally about self-care and how you include it in your life, or "try on" one of the practices we're blogging about over the course of the next week (movement, food, family/friends/pets, creativity and inward reflection). We ask that you link back to this post so that more people can learn about this retreat, and leave a comment for the weekly theme host, too!  If you would like to be included in our roundup and the drawing, please email a link to your post, along with your name and blog name, to us at selfcareretreat at gmail dot com by July 30, 2011.
As a little added incentive, for each post on your goals and your progress you link back here or one of the other co-hosts, you'll be entered to receive a $50 gift certificate to Nuts.com  (they are not sponsoring, I just wanted something with healthy gluten-free, vegan, sugar-free, etc. options)
Valerie of City Life Eats designed us a badge, and feel free to use the badge in your posts.  Non-bloggers who would like to contribute, please email the full text to the same address and it will be included in the roundup.
For a "flavor" of previous retreats, here's a link to the July Self-Care Retreat and the December Sanity Retreat.
As you can tell, we've been busy bloggers!
Welcome & kick off posts from:
Cheryl of Gluten-Free Goodness (you're already here!)
Food as Self-Care
Self-Care Through Connection
Self-Care Through Movement