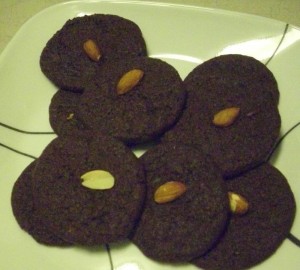 I forget how much I like to bake.  There's something magical about pulling out different ingredients, even before I have a clear sense of what I want to make, and simply seeing what emerges.  I haven't done it in far too long!  It was always like this when I was starting out.  There were so many food restrictions, and there weren't cookbooks that were gluten/dairy/egg/corn/soy/sugar/grain free 8 years ago.  So I saw baking as an experiment, and tended not to have a clear sense or expectation of what was ahead.  Granted, there's a much higher rate of flops that way, but it's also much more interesting.
Somewhere over the years I stopped experimenting as much, especially with desserts. I was supposed to be making something for someone else or a reviewing cookbooks. I was tired, our new kitchen is smaller, and months would slip by without playtime.  So it was a great surprise to wake up on Saturday wanting to make cookies!  Initially the plan was to make something simple from one of the cookbooks for DH, and I started pulling out the ingredients.  And then that familiar urge hit, and I decided we were going to wing it and go for a Cheryl original.
Quite to my surprise, these cookies were terrific.  I loved them, and so did our guests.  They're also quite Passover friendly, if you're inclined to give them a whirl right away!  They are crisp on the edges and chewy in the middle, and there's something about them that feels really satisfying.
Yes, they use more coconut sugar than I usually use…I may try cutting back next time. We shall see.
2/3 cup almond butter
1/2 cup cocoa powder
1 1/2 cups coconut sugar
1/2 tsp baking soda
¾ tsp stevia concentrate
Pinch of salt
2 tsp vanilla
2 TBSPs coconut oil
2 TBSPs maple syrup, agave, liquid sweetener de jour
1 TBSP water
3-4 TBSP cacao nibs, or if you're not avoiding sugar, mini chips or Heath bar pieces
Put the dry ingredients in a stand mixer and let it run for a minute (my coconut sugar always has lumps!)  Add in the almond butter, and mix until combined.  Add in wet ingredients and stir for a minute to let everything combine.
Make balls an inch in diameter and squash down on a Silpat or sheet lined with parchment.  Beware, they spread a little.  Put an almond or almond slivers on top.  Bake at 350 for 10-12 min.  Allow to cool, they are very soft right out of the oven but harden after 5-10 min.
This makes about 3 dozen cookies.
I will be submitting these to Ricki's Wellness Weekends, featuring vegan yummies with healthier ingredients.