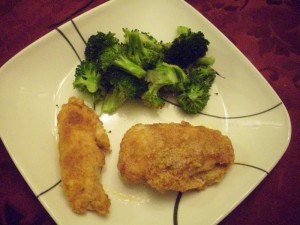 I love Stacy and Matthew's (AKA Paleo Parents') new book, "Eat Like a Dinosaur". It's absolutely adorable, has a nice range of recipes.  But what I like most of all is how it encourages the best sort of attitude and relationship for parents and their children to develop about food.
I know, I know, that sounds like a funny thing to say about a cookbook.  But one of the things I see is so much of our culture regarding eating as another chore to rush through on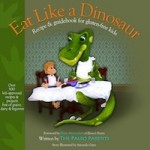 your way to xyz, rather than an opportunity to nourish, educate, and probably set habits for the next generation, too.  Even setting one meal a week to play with your children in the kitchen can be such a gift…and the kitchen is an idea place to play and learn.
Cookbooks are often elegant, but can often feel daunting or inaccessible.  Not this one! Lots of people don't make, say, roasted veggies or bone broth because they have the sense that it needs to be a lot of exotic ingredients and that it's too hard.  ELaD has a lot of recipes for the basics, which is so key. Most of us didn't grow up around parents who cooked…when I went off to college, the joke was that I would miss my mom's home microwaving.  Most of us don't know how to cook like our grandmothers, much less many generations back, and I love how this book makes it accessible and fun.
This book has a lot of recipes, an illustrated kids book, food info, AND includes a section on how your kids can get involved with each recipe.  The pictures are too cute for words.  And did you know that apes, raccoons and otters dip their food?  Me neither.
We had the "Fool's Gold" nuggets for dinner.  Actually, I opted for more of a chicken tenders deal, because I actually had to do chemical extraction on chicken nuggets way back in an undergrad lab class, and that was it.  (Yep, fat solvent extraction process, mortar and pestle, the whole deal.  Fascinating, but gross as anything!)
But back to yummy.  E and I both enjoyed the tenders, and they were simple to make, so they'll definitely be in the rotation again!
Oh, and re: the Paleo debate, here's a quick summary of my take: My Nutrition Guidelines
Disclaimer: I did receive a copy to review, and that did not influence my views.