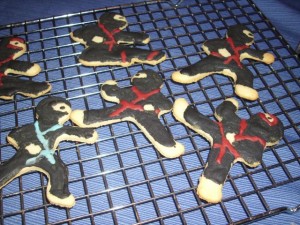 Better late than never, yes?  I got a copy of Beth Hillson's Gluten Free Makeovers
I think it was in late October—right before our annual huge baking binge…er…party.  And so I was not really up to cooking!  And then my camera died, and then construction and then…so yes, it's taken a while.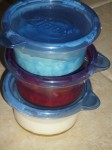 I was eager to review it, because Beth has such a great reputation.  As usual, I made two recipes: one for royal icing, which you can see decorating the NinjaBread Men, and the other was Quinoa Sesame Wonder Bread.
The Royal Icing was awesome because this was a super easy recipe, and the icing was very easy to work with and stayed firm.  I wouldn't hesitate to use it again, although I'd totally cut the amount in half.
The Wonder Bread intrigued me because I have a recipe with quinoa, sesame seeds AND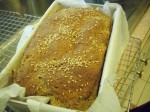 one of my co-workers named it wonderbread!  However the similarities stopped there with ingredients, and Beth's is a much simpler recipe (mine is much higher fiber and I will have to post it sooner or later!)
I struggled to follow Beth's directions because I'm so set in my ways.  I.e., in my brain, you just always proof yeast and use parchment and….so on.  But since I was supposed to be reviewing, I did my best to follow as written, and indeed, it worked as promised!  I did use parchment anyhow because I'm so lazy about clean up.
The bread rose beautifully, kept well and the recipe was a keeper.  A friend has half in her freezer and I will do my best to update this post when she updates me!
Regarding the book overall:
pros:  The recipes I made were great, I wouldn't hesitate to make either/both of them again, and many looked wonderful.  I think the Challah will have to be high on my to-make list!  There are also quite a few dairy free subs, which I think is a fantastic plus.
Cons: many of the recipes have very specific flour combos.  I.e. there's a basic blend, a cake blend, 2 bread blends….since I'm someone who doesn't cook anymore, I'd hate to make those up each time.  HOWEVER, I have no doubt that those blends are just an extension of the fact that Beth is a great baker!  I do wish, however, there was one blend and some sort of conversion between the two (i.e. add extra cornstarch for the cake flour, or whatever).
I wouldn't hesitate to recommend this book and it'll have a happy place on my bookshelf!