I hope everyone had a wonderful, sane holiday (or wonderfully sane?)  One way or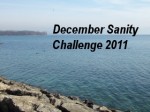 another.  I'm glad so many people opted to join the Sanity challenge and posted or commented.  Here are a bunch:
We were joined by:
JT of Faux Foodie Girl
TPOT of http://nourishingyourself.blogspot.com/
I, for one, enjoyed having one more little nudge to slow down, be mindful and focus on what's most important.
As for 2012, I have 2 resolutions:
More kindness.  Kindness to myself, my body, the people I love and the people I don't.
Savoring life.  There are so many beautiful aspects of life already here each day.  I want to marinate longer in them.
And….drumroll please…our Sanity winner is Jonathan of the Canary Files!  Congrats, Jonathan, and I'll be in touch this week.  And give yourself a gift and stop by Jonathan's wonderful blog.