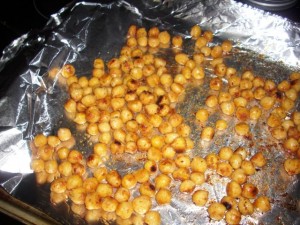 Whew!  I'm so glad that some people don't wait until the last minute on Adopt a Gluten-Free Blogger, or I wouldn't have a reminder that I'm behind!  Granted, I'm running behind because I've been so busy doing so many fun and exciting projects, but what a summer!  And what an exciting week for Celiac and a GF diet! Check out my comments on this weeks' teleconference.
My adoptee this month is Diane of The W.H.O.L.E Gang.  Like so many people, Diane turned her food restrictions into an area of passion and has blossomed into an exciting new venture as a Health Coach.  Though I haven't yet had the pleasure of meeting Diane personally, she's clearly someone who takes joy in bringing people together around food and fun projects, and I appreciate her dedication to helping people eat and live well.
If you haven't gotten a chance, do check out Diane's recipe archives.  There's a huge variety, and know you'll be hungry!  I opted to make the Roasted Chickpeas.  I made them before, back in the day when Kalyn's recipe came out in 2008. Like Diane, mine just didn't get crispy enough, and I know I tweaked things a bit. And then they just fell off my radar…and I forgot about them until I was looking through Diane's recipe index.   So this was a delightful re-introduction to an old friend. They were delicious, and I used the spicing that Diane but I do remember a whole bunch of varieties work!
And, of course, the Amazing Toasted Nuts uses this recipe as a base, and looks tempting, too!
Lots of Diane's recipes were quite tempting, and I will have to make the Chicken and Roasted Green Chile Soup  when it starts to get chilly.
Please also check out the other Adopt a GF Blogger posts when Sea hosts a round up on Book of Yum.