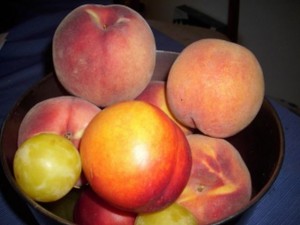 Ah, peaches.  There's nothing quite like them.  And although my first peach growing venture was a flop, there will be others, I tell you!  Or maybe I'll just stick to the easy stuff, especially now that our new place is a whopping 4 min away from the Farmer's Market.  Life is good!
I am delighted to announce that DVDs of the Celiac and Gluten Free Diet Videos will be available as of this week!   Just contact me. The DVDs are for support group leaders, the videos themselves are also on youtube.  As much as I have appreciated this project, it's also extremely satisfying to have the hard part DONE. Life has been busier this summer than usual, and I definitely notice needing more time for myself.
And, of course, this is the last week of our July Self-Care retreat.  Yep, I do realize it's August, but we were just having too much fun!  Last week was Shirley's fantastic post on Family Friends and Pets, and I have my post here.  Iris of the Daily Dietribe is hosting on Self Care through Creativity this week and head over and check out her post!  Valerie and I will do a round up next week.
On to food!
Monday:
Plum good beef stew with roasted cauliflower
Tues:
Chicken and broccoli in a faux soy sauce
Weds:
Kalamata Hummus on a bed of baby greens with herbs

Thurs:
maybe fish? I would love Mahi Mahi but need to grab some!
Friday:
Leftovers
Please email me if you'd like to host next week!
Heather of Celiac Family is balancing different requests–the usual suspects for the kids, and new tastes for hubby. She even plans to make a green bean dish with peaches, and I hope to hear more! She's also got peaches planned in an Indian Chicken dish.